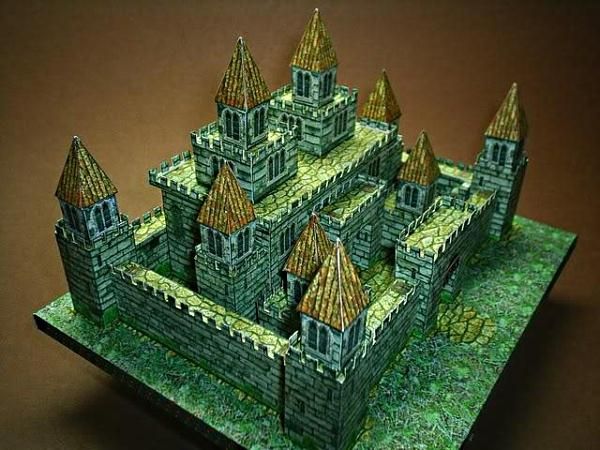 This model was already posted here, but because it is perfect for Halloween decoration and was posted more than a year ago, I decided to post it again today. It is not a hard-to-build model and you can see some photos of the assembly process in one of the links at the end of this post. Happy Halloween!
Este modelo já foi postado aqui antes, mas como é perfeito para decorações de Dia das Bruxas e também como ele foi postado há mais de uma ano, escolhi-o para o Weekend Pic desta semana. No final deste post você encontra o link para download, assim com um link com algumas fotos do processo de montagem. Feliz Dia das Bruxas!
Link to the download the model:
The.Weekend.Pic.Medieval.Castle.by.Papermau.Download
Link to construction report:
The.Weekend.Pic.Meets.Medieval.Castle.by.Papermau.Construction.Report
About "The Weekend Pic" - It will always be an image of a free model, built by a designer found in forums, blogs or sites around the Net. I would like to ask the cooperation of all friends of the blog to indicate some models for this weekly post. The only requirement: the model needs to be freely distributed and there must be a link to this assembly or construction report.
Sobre "The Weekend Pic" - Será sempre uma imagem de um modelo gratuíto, construída por um designer achado ao acaso em foruns, blogs ou sites ao redor da Net. Eu gostaria de pedir a colaboração de todos para indicar modelos para este post semanal. A única exigência : o modelo tem que ser de livre distribuição e tem que haver um link para esta montagem, de preferência com fotos de várias etapas da montagem.
More The Weekend Pics related posts:
The Weekend Pic - Daughter Yukata - by Eatcrow2 / Moekami
The Weekend Pic - Passenger-Carrying Coache - by MiZi / Paper Camera
The Weekend Pic - Horyuji Pagoda - by Alan G / Canon
The Weekend Pic - Yamaha Dragstar Classic 11 - by Reinhard Fabisch / Yamaha