I want to thank Young Stan for the tip for this post!
The Real Thing
The ChristChurch Cathedra
l stands in the center of
Christchurch
, the
largest city on New Zealand's South Island
. Construction began in
1864
, under the supervision of local architect
Benjamin Mountfort
, and the project required 40 years for completion. The building itself is a representative example of the Neo-Gothic style, and the interior is distinguished by soaring roof supports that resemble the hull of a ship. Local totara and matai timber was used for these massive beams.
Cathedral Square
, the open plaza surrounding the cathedral, is a favorite gathering place for local residents and visitors alike. The
February 2011 Christchurch earthquake
was a
powerful natural event
that severely damaged
New Zealand's second-largest city,
killing
185 people
in
one of the nation's deadliest peacetime disasters.
The magnitude
6.3 (ML) earthquake
struck the
Canterbury region in New Zealand's South Island
at
12:51 pm on Tuesday, 22 February 2011
local time .
The earthquake was centred 2 kilometres (1.2 mi) west of the town of Lyttelton
, and
10 kilometres (6 mi) south-east of the centre of Christchurch, New Zealand's second-most populous city.
It followed nearly six months after the
magnitude 7.1 Canterbury earthquake of 4 September 2010,
which caused significant damage to
Christchurch
and the
central Canterbury region
, but no direct fatalities. -
Wikipedia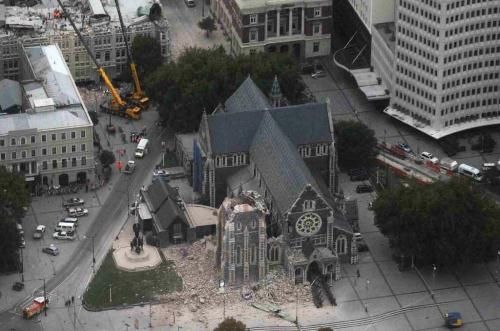 Christchurch Cathedral after Earthquake
A Catedral de Christchurch
começou a ser construída em
1864,
sob a supervisão do arquiteto local
Benjamin Mountfort
e foi concluída
quarenta anos depois, em 1904.
è um belo exemplo de
arquitetura em estilo neo-gótico
. No dia
22 de fevereiro de 2011
um
terremoto
/
de 6,3 na Escala Richter atingiu a cidade
, provocando
159 mortes
e deixando
um rastro enorme de destruição e centenas de desaparecidos
. A
Catedral de ChristChurch
teve sua torre totalmente destruída, assim como boa parte de seu prédio.
Christchurch
é a
maior cidade
da
Ilha Sul da Nova Zelândia
e a
segunda maior cidade do país
com cerca de
376.700 habitantes
, localizada na costa leste da
Ilha Sul
ao norte da
Península de Banks
. É a capital da região de
Canterbury. Christchurch
é considerada a
cidade mais inglesa fora da Inglaterra;
ela foi planejada em
meados do século XVIII
como uma cidade modelo. A praça da catedral
(Cathedral Square)
é o coração da cidade.
Link:
ChristChurch.Cathedral.In.New.Zealand.by.Canon
Read more about Christchurch Earthquake:
First look inside collapsed Christchurch Cathedral - by BBC
More Historic Architecture and Buildings related posts:
St Michael Old Chapel - by Papermau - Capela de São Miguel - Download Now!
Boyen Fortress - Poland - by Renova Model - Fortaleza Boyen
La Iglesia Del Salvador De La Roda - Spanish Church Paper Model
Petra Treasure, Jordania - by Papermau - Petra, na Jordânia