Today, September 7th, Brazil celebrated
its
Independence Day
, when
Brazil
ceased to be a
Portuguese
colony, then, to remember this date, nothing better than a genuinely
Brazilian
paper model, done by a
Brazilian
modeler,
Mr. Sergio Vasconcellos
.
Hoje, dia 7 de setembro
, o
Brasil
comemora seu
Dia da Independência
, data em que o
Brasil
deixou de ser uma
colônia portuguesa
, então, para lembrar esta data, nada melhor que um paper model genuinamente
brasileiro
, feito por um grande modelista
brasileiro
, o
Sérgio Vasconcellos
.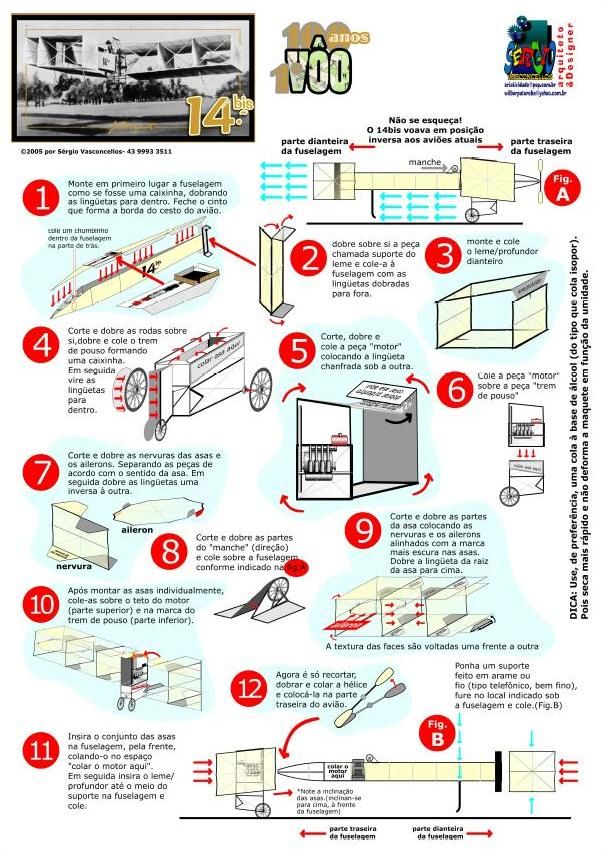 The 14-bis
, also known as
Oiseau de Proie
(French for
"bird of prey"
), was a pioneer-era canard biplane designed and built by
Brazilian
inventor
Alberto Santos-Dumont
. On
23 October 1906
, in
Paris, France
, it performed the first officially witnessed unaided takeoff and flight by a heavier-than-air aircraft. -
Wikipedia
The Real Thing
O 14-bis
foi um avião híbrido construído pelo inventor brasileiro
Alberto Santos Dumont
em
1906
e testado entre os dias 19 e 23 de julho desse ano na cidade de
Paris, França
.
O 14-bis
era constituído por um aeroplano unido ao balão 14, que fora utilizado em vôos feitos por
Santos Dumont
em meados de
1905.
Daí o nome
"14-bis"
, isto é, o
"14 de novo"
, devido ao fato do balão estar sendo reaproveitado. A função do balão era reduzir o peso efetivo do aeroplano e facilitar a decolagem. O aeróstato, porém, gerava muito arrasto e não permitia ao avião desenvolver velocidade.
Santos Dumont
retirou o balão e, para compensar o aumento de peso, no dia 3 de setembro de
1906
duplicou a potência do aparelho, instalando um motor de 50 cavalos-vapor no lugar do de 24 até então utilizado. Transformou o
14-bis
assim no
Oiseau de Proie
, com o qual obteve um salto de 8 metros em
13 de setembro de 1906
.
Fez modificações no avião: envernizou a seda das asas para aumentar a sustentação, retirou a roda traseira, por atrapalhar a decolagem, e cortou a estrutura portadora da hélice. Em
23 de outubro de 1906
, no
campo de Bagatelle
, na cidade de
Paris
, o
Oiseau de Proie II
decolou usando seus próprios meios e sem auxílio de dispositivos de lançamento, percorrendo 60 metros em sete segundos, a uma altura de aproximadamente 2 metros, perante mais de mil espectadores. Esteve presente a Comissão Oficial do Aeroclube da França, entidade reconhecida internacionalmente e autorizada a homologar qualquer evento marcante, tanto no campo dos aeróstatos como no dos "mais pesado que o ar".
Em 12 de novembro do mesmo ano, com o avião - agora o
Oiseau de Proie III
- provido de ailerões rudimentares para ajudar na direção, percorreu 220 metros em 21,5 segundos, estabelecendo o recorde de distância da época. -
Wikipedia
Mr.Calassa flying with his replica of 14-bis.
The 14bis flying again, 100 years later!
Brasilia
. Cloudy. Thick dark clouds come together from all sides. A strange square shape, beautiful and white, line up on the grass in front of a makeshift runway. The crowd begins to look for the best place to see - maybe - this strange creature take flight. Many do not believe that is possible ...
The flight of the
14bis
is scheduled for 16:45, before the show's
Smoke Squadron
, but there is concern that the weather would worsen. It is a matter of "now or never."
Alan Calassa
rises in the narrow basket is the place of the pilot, similar to that used by
Santos-Dumont
, and faces the "track", cut by paths of asphalt that slopes gently toward the Congress. Surprises everyone by giving a short ride to warm up the engine and which were not given time to point the cameras, it will slide through the grass and then taking off. The crowd, in disbelief, begins to applaud.
And there he goes, fading towards the twin towers at the end of the Esplanade ...
flight of 400 meters!
A little wind abeam stops flying replica of the fragile and
Alan
falls to the ground, unfortunately breaking a wheel. But he's fine, smiling. The crowd rushes to see, take pictures, clap, hug him. It looks really similar to a scene photos of the original flight, exactly 100 years, at
Champs de Bagatelle, Paris
.
Alan Calassa
not let anyone forget this detail:
"Thank you, Santos-Dumont. A great Brazilian!"
he yells. -
Margi Moss
,
360graus.terra.com.br/esportesaereos
O 14bis decola de novo, 100 anos depois!
Brasília
. Céu nublado. Grossas nuvens escuras se agrupam por todos os lados. Uma estranha forma quadrada, bela e branca, se alinha na grama em frente a uma pista improvisada. A multidão começa a procurar o melhor lugar para ver - talvez - esse estranho bicho levantar vôo. Muitos não acreditam que seja possível...
O vôo do 14bis
está programado para 16h45, antes do show da Esquadrilha da Fumaça, mas há preocupação que o tempo possa piorar. É questão de "agora ou nunca".
Alan Calassa
sobe na estreita cesta que é o lugar do piloto, idêntica à usada por
Santos-Dumont
, e encara a "pista", cortado por caminhos de asfalto, que desce suavemente em direção ao
Congresso Nacional
. Surpreende a todos ao dar uma pequena voltinha para esquentar o motor e, sem que tivessem tempo para apontar as câmaras, ele vai deslizando pela grama e logo decolando. A platéia, incrédula, começa a aplaudir.
E lá vai ele, sumindo rumo às torres gêmeas no final da Esplanada...
vôo de 400 metros!
Um ventinho de través interrompe o vôo da frágil réplica e Alan desce ao solo, infelizmente quebrando uma roda. Mas ele está bem, sorridente. A multidão corre para ver, tirar fotos, aplaudir, abraçá-lo. Parece realmente uma cena idêntica às das fotos do vôo original, há exatos 100 anos, em
Champs de Bagatelle, Paris.
Alan Calassa
não deixa ninguém esquecer esse detalhe:
"Obrigado, Santos-Dumont. Um grande brasileiro!"
ele grita. -
Margi Moss
,
360graus.terra.com.br/esportesaereos
Link:
14-Bis.Paper.Plane.by.Sergio.Vasconcellos
You May Also Like:
Santos.Dumont`s.Demoiselle.Nº20.Airplane.by.C.R.Liberato
Triplane.Fokker.Dr.I.by.Recortecole
Sopwith F.1 Camel WW1 Plane - by Kota