This version is from
the
Nintendo 64
game
The Legend of Zelda: Majora's Mask
. Link has only three days time to save
Clock Town
and the land of
Termina
from the
Skull Kid
, who has stolen
Majora's Mask
and is causing the moon to fall from the sky!
Luckily, Link can
use the
Ocarina of Time
to travel back and forth through time, and he can use a variety of magical masks of his own to gain great powers that he will need to fight
Skull Kid and Majora's Mask
!
Young Link
was the 3rd papercraft
Zelda
model I made and only the 27th in total! (although a lot of people think it was my first ;o)
It is still one of my favourites (although I like all my paper models of course ;o) because he looks just as
"blocky"
/ polygonal as he does in the
Nintendo 64
game, so it's just as if he jumped from the video game screen onto your desk! ;o) -
words of Ninjatoes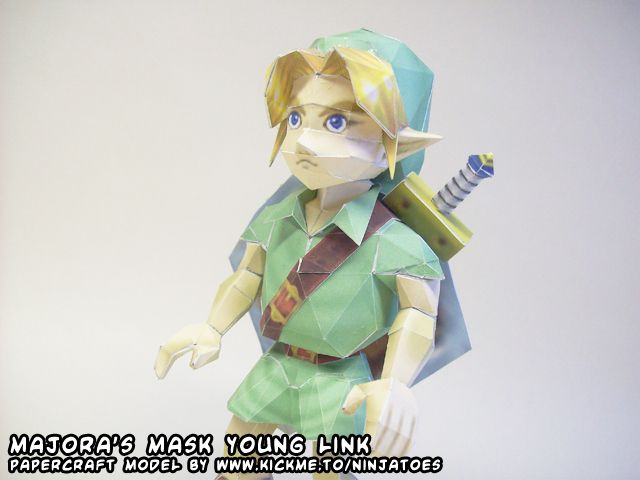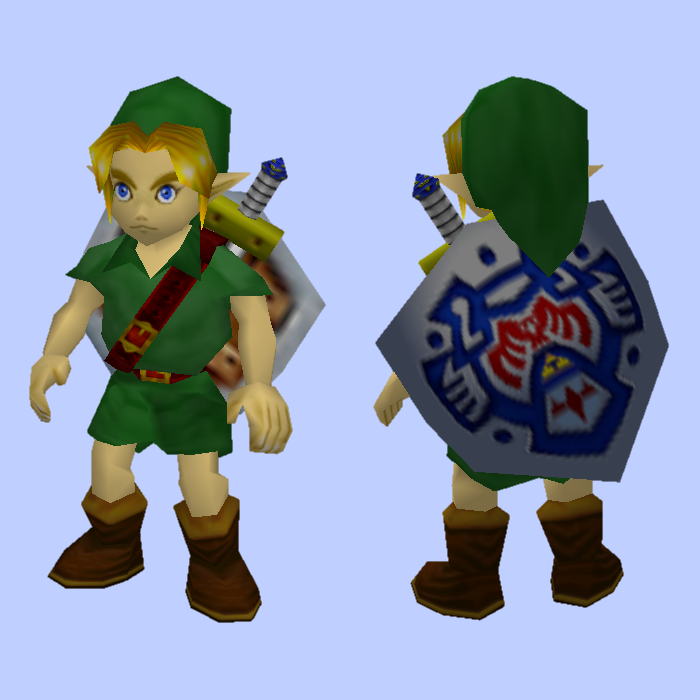 The Virtual Link
The Legend of Zelda: Majora's Mask
(em japonês: ゼルダの伝説: ムジュラの仮面 Zeruda no Densetsu: Mujura [Mujula] no Kamen) é o segundo jogo eletrônico da série
The Legend of Zelda
para o
Nintendo 64
, lançado em 2000. O jogo obteve boa recepção, vendendo mais de 3 milhões de cópias.
Majora's Mask
segue a história após o antecessor do
N64
,
The Legend of Zelda: Ocarina of Time
. O jogo diferencia-se do resto da série por não se passar em
Hyrule
e não ser centrado na
Triforce
e na
Princesa Zelda
. A história se desenrola em
Termina
, uma espécie de "mundo paralelo", em que o protagonista
Link
deve tentar impedir que a lua colida com o planeta, provocando o apocalipse, após ser tirada da sua órbita pelo mascarado
Skull Kid
.A jogabilidade transcorre por três dias em que a lua vai desabando, com o uso de viagem no tempo para "reviver" os dias e máscaras de transformação. -
Wikipedia
Scenes from the game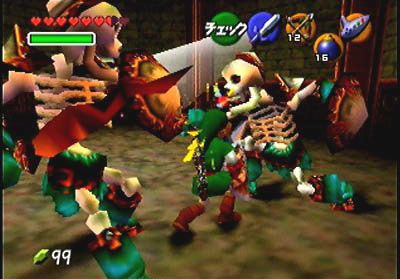 Link:
Young.Link.From.Legend.Of.Zelda.Majora`s.Mask.by.Ninjatoes