Model Assembled and Photo by Daniel Beek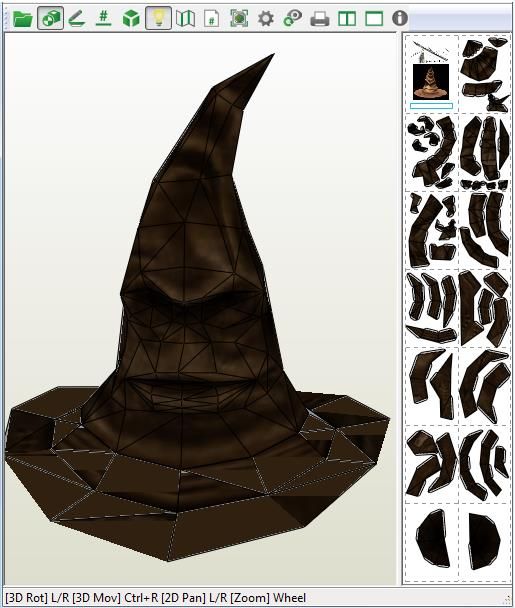 This perfect paper model version of the Sorting Hat
, from H
arry Potter books and movies series
, was created by
designer Etore,
from
Papercraft Led
website.
The Sorting Hat
is a
sentient Hogwarts artefact
that
magically determines which of the four school Houses
each
new student belongs most to
. These
four Houses
are
Gryffindor, Hufflepuff, Ravenclaw, and Slytherin.
The
Sorting Hat
originally belonged to
Godric Gryffindor
, one of the
founders of Hogwarts
. It normally
stays in the Headmaster's office until it is needed.
- To
view and print this model
you will need
Pepakura Viewer Free Version
(
link at the end of this post
).
Esta perfeita versão em apel do Chapéu Seletor,
da
série de livros e filmes de Harry Potter,
foi criada pelo
designer Etore,
do site
Led Papercraft.
O
Chapéu Seletor
é um
objeto mágico pertencente à escola de Hogwarts
. Ele possui uma
aparência velha e suja,
tipicamente associada a
objetos de bruxos.
Originalmente,
o chapéu pontudo de bruxo
que hoje é o
chapéu seletor
, pertencia a
Godric Gryffindor.
Ele foi
enfeitiçado pelos quatro bruxos fundadores da Escola de Magia e Bruxaria de Hogwarts,
com
um bocado de suas mentes e outro tanto de suas personalidades.
O chapéu
seleciona os alunos
para cada uma das
casas da escola, que são: Grifinória, Sonserina, Corvinal e Lufa-Lufa.
- Para
visualizar e imprimir este modelo
você precisará do
Pepakura Viewer Versão Gratuíta
(
link no final deste post
).
Link to download the model:
Harry.Potter.Sorting.Hat.Paper.Model.In.1/1.Scale.by.Etore.via.Papercraft.Led
Link to Pepakura Viewer Free Version:
Pepakura.Viewer.Free.Version.Official.Page
More Paper Models in 1/1 Scale related posts:
Pikachu Papercraft In 1 / 1 Scale - by Paper Juke
Stormtrooper Helmet With EVA Foam In 1 / 1 Scale - by Julius Perdana/Paper Replika
Halloween Special - Twisted Metal - Needles Kane's Mask - by Paper Juke
Capitain America Shield In 1 / 1 Scale - by Scanner Joe