Created by Frenchdesigner Toshinden Papercrazy
and originally posted at
MooNFish Papercraft
, this is
Ben Grimm, aka The Thing
, from
Fantastic Four comics and movies series.
To
view and print this model
you will need
Pepakura Viewer Free Version
(
link at the end of this post
).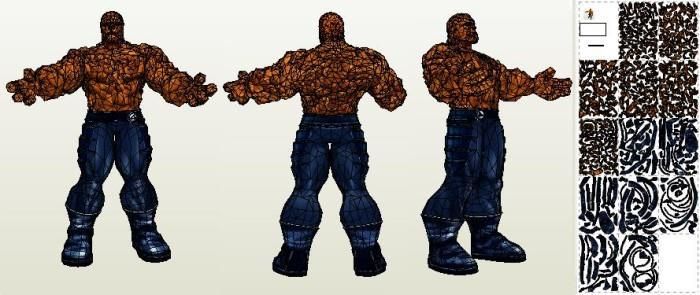 Criado pelo designer francês Toshinden Papercrazy
e originalmente postado no site
MooNFish Papercraft
, este é
Ben Grimm, aka The Thing
, da
série de quadrinhos e filmes Quarteto Fantástico.
Para
visualizar e imprimir este modelo
você precisará do
Pepakura Viewer Versão Gratuíta
(
link no final deste post
).
Detail of the Model
Link to download the model:
Fantastic.Four.Ben.Grimm.Paper.Model.by.Toshinden.Papercrazy.via.MooNFish
Link to Pepakura Viewer Free Version:
Pepakura.Viewer.Free.Version.Official.Page
More Super Heroes Paper Models related posts:
Link:
Avengers 2 - Iron Man Hulkbuster Paper Model - by Paper Replika
Link:
Batman And Mini Batman Paper Toys - by Papermau - Download Now!
Link:
Batman - Arkham Asylum Playset Paper Model - by Professor Plastik
Link:
Super Girl Paper Toy - by Wackywelsh & Xavier Gale-Sides