A Scale Cube is used for taking pictures and photographs of anything, where you need an object in the picture as a reference for size and/or direction.
This is the official scale cube from Le Forum En Papier, a great French paper modelers forum. This cube was created by designer Buzuc and you can customize this with a personal photo or any other image you want. In the image of this post you can see my very own scale cube, that I make using as image my little girl Maiú, disguised as a dinosaur, which is the unofficial Papermau`s mascot. What are you waiting for? Visit Le forum En Papier and make your own
Customizable Scale Cube!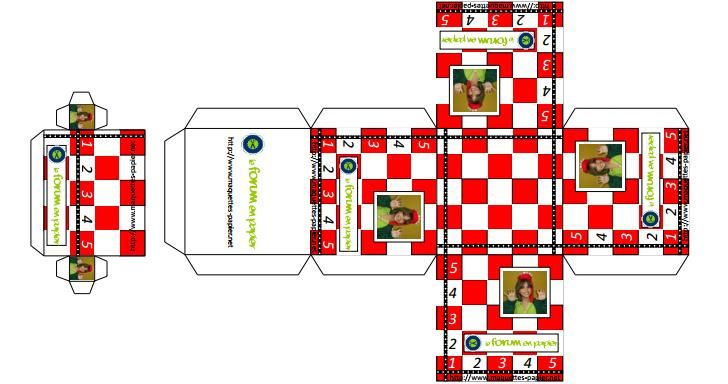 Um Cubo de Escala é usado para tirar fotos de qualquer coisa, quando você precisa de um objeto na imagem como uma referência para o tamanho e/ou direção do tema principal.
Este é o cubo de escala oficial do Le Forum En Papier, um ótimo forum d papelmodelismo francês. Este cubo foi criado pelo designer Buzuc e você pode customizar o seu com uma foto ou qualquer outra imagem que queira. Na imagem que ilustra este post, você pode ver o cubo que eu fiz, usando uma imagem de minha filha Maiú, "irreconhecível" em seu disfarce de dinossauro, e que é a mascote não-oficial aqui do Papermau. O que você está esperando? Visite o Le Forum En Papier e crie o seu próprio Cubo de Escala Exclusivo!
Link:
Customizable.Scale.Cube.Paper.Model.by.Buzuc.via.Le.Forum.En.Papier
More Paper Models of Cubes and Dices related posts:
Scale Cube Paper Model - by Andy Nose - via Papiermodell Austria
The Oracle Dice Paper Model - by Papermau - Download Now!
Chinese Dice Puzzle Paper Model - by Mak - via Paper Modelers
Ancient Double Dice Paper Model - by Papermau - Download Now!