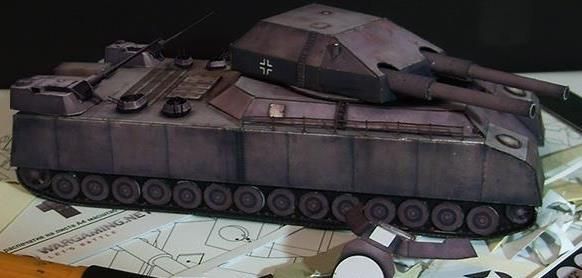 Artistic Interpretation of the Landkreuzer P.1000 Ratte
The Landkreuzer P. 1000 Ratte was a design for a super-heavy tank for use by Nazi Germany during World War II. It was designed in 1942 by Krupp with the approval of Adolf Hitler, but the project was canceled by Albert Speer in early 1943 and no tank was ever completed. At 1,000 metric tons, the P-1000 would have been over five times as heavy as the Panzer VIII Maus, the heaviest tank ever built.
-
Wikipedia
O Landkreuzer P. 1000 Ratte foi um projeto de tanque ultra-pesado da Alemanha Nazi. Sua idealização coube à indústria Krupp no ano 1942 a mando de Adolf Hitler, entretanto o projeto foi cancelado por Albert Speer em 1943. O Landkreuzer pesava mais de 1000 toneladas, sendo cinco vezes mais pesado que o Panzer VIII Maus, o maior tanque já produzido. Seu armamento principal seria dois canhões de 280 mm montados da mesma maneira que nos navios da classe Gneisenau, enquanto que seu armamento secundário era composto por canhões anti-carro, metralhadoras e artilharia antiaérea.
-
Wikipedia
Link:
WW2`s.German.Tank.Landkreuzer.P.1000.Ratte.Paper.Model.In.1/200.Scale.by.Worls.Of.Tanks
More Paper Models of Tanks related posts:
WW2`s Tank M3A Honey Paper Model In 1/48 Scale - by Konradus
Renault FT 17 Paper Model- The World's First Modern Tank - by PeaGrafis - via Le Forum En Papier
1927`s Interwars Light Tank T1E1 Paper Model - by Alberto Perilli - via Thailand Namotasa
The Weekend Pic - Jagdpanther Tank Paper Model - by Maxe / Rawen