More one nice model by Portuguese designer MegaMoonLiner
, now the already posted
ISE Class Japanese Hybrid Battleship
, but in
1/700 scale
(
only one sheet
).
Mais um belo modelo
do
designer português MegaMoonLiner,
agora o já lançado
ISE Class Japanese Hybrid Battleship,
mas na
escala 1/700
(
em apenas uma folha de papel
).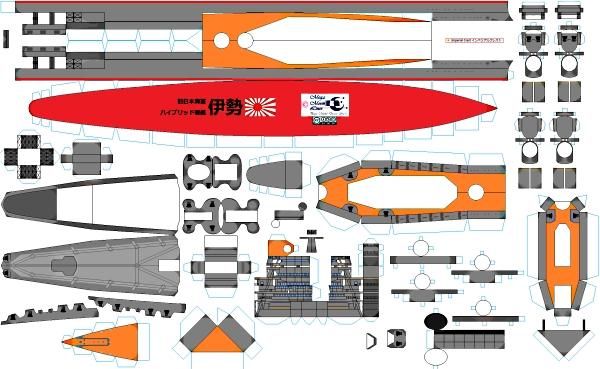 MegaMoonLiner, designer of this model said:
-
"1/700 scale is only applicable for who print this in an A3 sheet. For those who print this into an A4 sheet, the model comes at 1/1200 scale."
MegaMoonLiner, designer deste modelo, disse:
-
"A escala 1/700 só se aplica se o modelo for impresso em folhas A3. Para aqueles que imprimirim em A4 (padrão brasileiro), a escala será de 1/1200."
Link:
ISE.Class.Japanese.Hybrid.Battleship.Paper.Model.In.1/700.Scale.by.MegaMonnLiner
More Boats and Ships related posts:
Titanic - 100 Years - A Tribute In Paper
The Ghost Ship Paper Model - by Ravens Blight - Navio Fantasma
German Boats Paper Models - by Rennert - Barcos Alemães
Japanese Cargo Ships - by Naiko Kaiun - Navios Cargueiros Japoneses