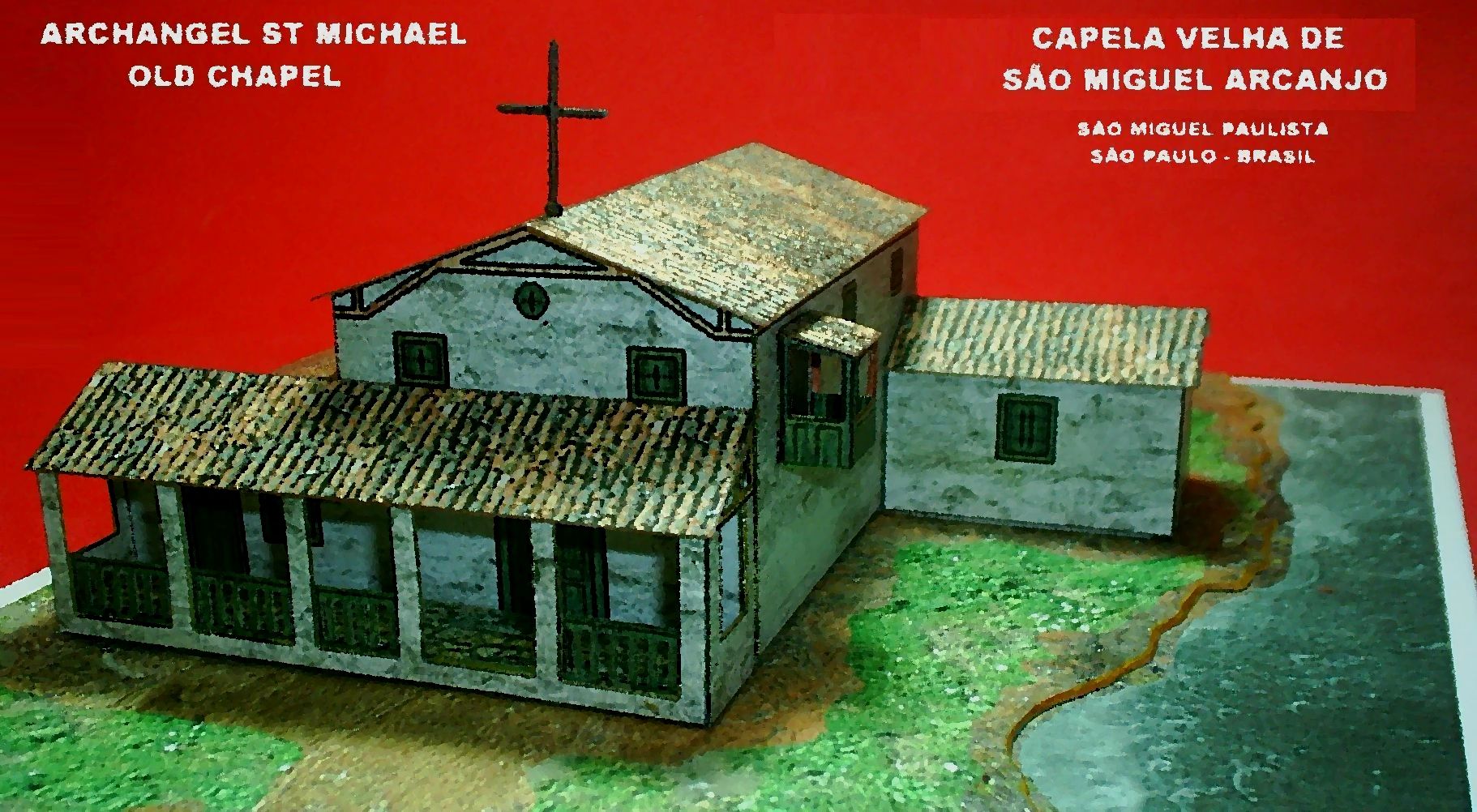 São Paulo, minha cidade e a maior metrópole da América Latina, comemora hoje 459 anos e para celebrar, apresento neste post, um modelo que foi originalmente postado aqui no blog no dia 3 de Agosto de 2011 e está diretamente ligado com a história de São Paulo: a Capela de São Miguel Arcanjo.
São Paulo, my city and the largest metropolis in Latin America, today completes 459 years and to celebrate, I present in this post, a model that was originally posted here on the blog on August 3, 2011 and is directly connected with the history of São Paulo : the Chapel of St. Michael the Archangel.
Uma pequena capela
foi construída por volta de
1550
e foi substituída em
1622
, pela capela que hoje conhecemos, conforme indicado nas inscrições da verga da porta principal.
Sob a orientação do carpinteiro e bandeirante
Fernão Munhoz
, a
Capela de São Miguel Arcanjo
foi construída pelos índios guaianases em 1622. Ela é a única construção na cidade de São Paulo que, depois da reforma que sofreu no século
XVII
, conserva-se totalmente original, com
paredes em taipa de pilão
. A igreja foi um dos primeiros prédios tombados pelo Patrimônio Histórico e Artístico Nacional (atual Iphan), em 1938.
É o templo católico mais antigo da cidade de São Paulo e integra um conjunto de monumentos coloniais.
Built in 1550
and completely rebuilt in
1622
, the
Archangel St Michael Chapel
is the most ancient church of
Sao Paulo
and i one of the most ancient of
Brazil
.
Built by the
jesuits and explorers
(bandeirantes), with the help of the indians of the region, this church had the
function of strategic point of defense.
Link:
St Michael Old Chapel Paper Model - by Papermau - Capela de São Miguel - Download Now!
More Historic Paper Models related posts:
Constantine's Arch and the Roman Colosseum - by Travel & Stuff 4 Kids
Roman Castrum In Romania - by Papermau - Download Now!
Fortifications Of Vauban - De La Hougue Tower - by Vauban.Org
The Petra Treasure Paper Model - by Papermau - Download Now! Tesouro De Petra, na Jordânia