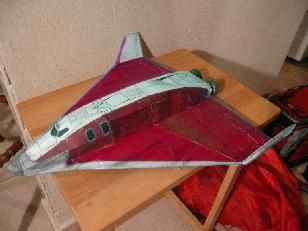 Delta Glider Paper Model - Red Version
This very nice paper model of a Delta Glider
is offered by
Orbit Hangar Mods
, a site dedicated to
explore all the possibilities of the space flight simulator Orbiter.
Orbiter is a freeware space flight simulator
program developed to
simulate spaceflight using realistic Newtonian physics
. The
simulator
was
first released on 27 November 2000
and the latest edition, labeled
"Orbiter 2016"
, was released on
30 August 2016
, the first new version of the simulator since
2010
.
Orbiter is a simulator
that gives you an idea what
space flight really feels like - today and in the not so distant future.
And best of all:
you can download it for free!
Este modelo de papel bem legal de um Planador Orbital
é oferecido por
Orbit Hangar Mods
, um site dedicado a
explorar todas as possibilidades
do
simulador de vôo espacial Orbiter. Orbiter
é um
simulador de vôo espacial
desenvolvido para
simular vôos espaciais usando física newtoniana realista.
O
simulador
foi lançado pela primeira vez em
27 de novembro de 2000
e a última edição, chamada
"Orbiter 2016", foi lançada em 30 de agosto de 2016
, a primeira atualização do simulador desde
2010. Orbiter permite que você tenha uma idéia precisa
dos
procedimentos de um vôo espacial real
-
hoje e em um futuro não tão distante.
E o melhor de tudo:
você pode baixá-lo gratuitamente!
Link to Delta Glider Blue:
Orbiter.Delta.Glider.Paper.Model.In.1/48.Scale.by.Orbit.Hangar.Blue.Version
Link to Delta Glider Red:
Orbiter.Delta.Glider.Paper.Model.In.1/48.Scale.by.Orbit.Hangar.Red.Version
Link to Orbiter Simulator:
Orbiter.Freeware.Space.Flight.Simulator.Official.Website
More Space Paper Models related posts:
Astronaut Paper Model - by Julius Perdana - Paper Replika
Apollo Lunar Module - by U-Don`s Factory - Módulo Lunar Apollo
USA`s Orion Spacecraft In Several Configurations - by Pe2tr
Mars Polar Lander In 1/24 Scale - by Nasa.Gov