Created by Japanese designer Lazy Life
, this is the
paper model version in 1/72
scale of the
KV-2 Soviet Heavy Tank.
The
Kliment Voroshilov (KV) tanks
were a
series of Soviet heavy tanks
named after the
Soviet defense commissar and politician Kliment Voroshilov
and
used by the Red Army
during
World War II
. The
KV series were known for their heavy armour protection
during the
early part of the war
, especially during the
first year of the German invasion of the Soviet Union.
- read more at
KV-2.Soviet.Tank.at.Wikipedia

Criado pelo designer japonês Lazy Life
, este é o
modelo de papel na escala 1/72
do
Tanque Pesado Soviético KV-2.
Os tanques Kliment Voroshilov (KV) eram tanques pesados soviéticos
que tinham este nome em
homenagem ao comissário de defesa soviética e político Kliment Voroshilov
e foram usados pelo
Exército Vermelho
durante a
Segunda Guerra Mundial
.
A
série KV
eram conhecida por sua
blindagem pesada
durante a
parte inicial da guerra
, especialmente durante o
primeiro ano da invasão alemã da União Soviética.
- leia mais em
Tanque.Soviético.KV-2.na.Wikipedia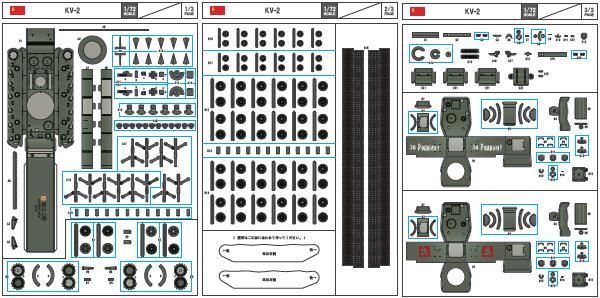 Link:
WW2`s.KV-2.Soviet.Tank.Paper.Model.In.1/72.Scale.by.Lazy.Life
More Paper Models of Tanks related posts:
WW2`s Tank M3A Honey Paper Model In 1/48 Scale - by Konradus
Renault FT 17 Paper Model- The World's First Modern Tank - by PeaGrafis - via Le Forum En Papier
40K Predator Mk1C Tank Paper Model - by Paper WarGames
1927`s Interwars Light Tank T1E1 Paper Model - by Alberto Perilli - via Thailand Namotasa