Model Assembled and Photos by Mr. Jens - via Kartonbau.De Forum
A great model of a Western Fort
, that was published in several parts, weekly, in
1980
, inside
Disney`s magazines
. All the photos of the model in this post are by
Mr. Jens
, a great
German
modeler, and were originally posted on the
German Forum Kartombau.De
(link to original
Mr. Jens
` post at the end of this post).
Seite 42
, which does a great
work of preservation and dissemination of these old models of Disney
, generously shares with us this
rare model.
- This post was
originally published in 03/02/2012.
Um belíssimo modelo de um Forte Apache
, que foi originalmente encartado semanalmente nas
revistas da Disney
, durante o ano de
1980
. Todas as fotos que ilustram este post, são do
Sr. Jens
, um grande
modelista alemão,
que as postou originalmente no forum
alemão Kartombau.De
(link para a postagem original no fim deste post). O site
Seite 42,
que faz um belo
trabalho de conservação e divulgação destes antigos modelos da Disney
, generosamente compartilha este raro
Forte Apache
conosco. - Este post foi
originalmente publicado em 02/03/2012.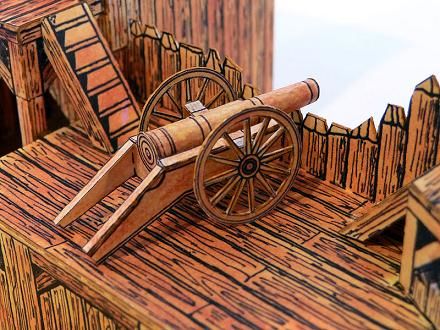 Link to download the model:
1979`s.Western.Fort.Paper.Model.by.Seite.42
Link to Mr. Jens original post:
1979`s.Western.Fort.Paper.Model.assembled.by.Mr.Jens.via.Kartombau.De
More Old West related posts:
Lucky Luke`s Old West City - Cidade do Velho Oeste
Red Dog Saloon - by Papermau - Saloon do Cão Vermelho
The Lone Ranger Frontier Town - by Thrilling Days.Com
Old West City - by YPS Fan Page - Cidade Do Velho Oeste