This beautiful vintage paper model
was originally published in a
French comics magazine.
I have this
saved in my HD a lot of time
, so I
decided to share it via Google Drive
. You will find
two links below: one for the original template
and
other with a cleaned version
made by me
, which will
save a lot of ink when printing.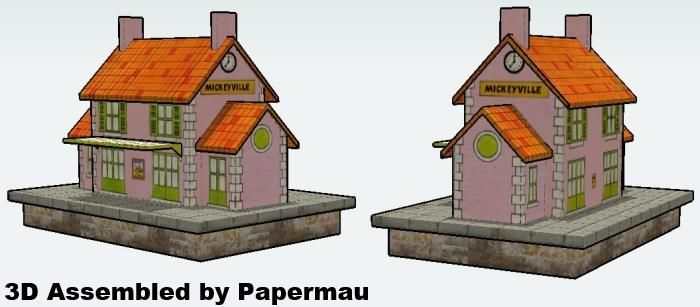 Este modelo de papel antigo
foi originalmente publicado em uma
revista em quadrinhos francesa.
Eu tinha-o
salvo em meu HD já tem bastante tempo
, então resolvi
compartilhá-lo via Google Drive.
Você vai
encontrar dois links abaixo:
um para a versão original
e
outro para uma versão limpa que eu fiz
, que vai
economizar um bocado de tinta na hora de imprimir.

The Original and the Cleaned version, side by side
Link to original version:
Mickeyville.Train.Station.A.Vintage.Paper.Model.by.Disney.Comics.Original.Version
Link to cleaned version:
Mickeyville.Train.Station.A.Vintage.Paper.Model.by.Disney.Comics.Cleaned.Version
More Vintage Paper Models related posts:
Vintage Doll House Paper Model With Furniture - by Bonnie Jones - via Picasa
German Vintage Locomotives - by Bastelbogen On Line
At The Photographer - Papercraft Vintage Diorama - by SarienSpiderDroid / Agence Eureka
Colonial Era Butcher Vintage Paper Model - by National Museum of Play - Açougueiro da Época Colonial