Here are perfect paper model versions
of the
Greatsword and the Shield of Artorias
, from the
videogame Dark Souls
. These models are the
result of many hours of hard work
of the
North American designer EuTytoAlba
and he
kindly share it via his page on DeviantArt.
- To
view and print this model
you will need
Pepakura Viewer Free Version
(
link at the end of this post
). -
Attention:
this specific model just open with the version 3.0 of Pepakura Viewer program. The link below is for this old version.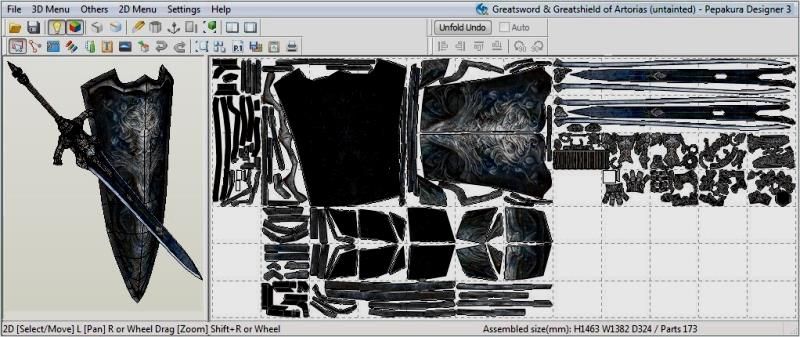 Aqui estão perfeitas versões em papel
da
Grande Espada e do Escudo de Artorias
, do
videogame Dark Souls
. Estes modelos são
resultado de muitas horas de trabalho duro do designer norte-americano EuTytoAlba
, que generosamente
compartilha-os em sua página no DeviantArt
. - Para
visualizar e imprimir este modelo
você precisará do
Pepakura Viewer Versão Gratuíta
(
link no final deste post
). -
Atenção:
este model específico abre apenas na versão 3.0 do Pepakura Viewer. O link abaixo já aponta para esta antiga versão.
Link to download the model:
Dark.Souls.Greatsword.And.Shield.Of.Artorias.Paper.Models.by.EuTytoAlba
Link to Pepakura Viewer Free Version 03:
Pepakura.Viewer.Free.Version03.Official.Page
More Paper Models in 1/1 Scale For Cosplayers related posts:
M-14 Rifle Paper Model In 1/1 Scale - by DarkAntz MKII - via Paper Replika
X-Men - Magneto Helmet Paper Model In 1/1 Scale - by Shannon - via Pepakura Gallery
The Pirate Cutlass Paper Model In 1/1 Scale - by Ravens Blight
Star Wars - Darth Vader Helmet In 1/1 Scale - by Shannon - via Pepakura Gallery