This very well done paper model version
of the
Maritime Self-Defense Force Aegis Destroyer Kongo
was created by
Japanese designer Kushimaru
, from
Paper Model Studio
website. -
JDS Kongo (DDG-173)
is a Kongo class guided missile destroyer in the
Japan Maritime Self-Defense Force (JMSDF).
Kongo
is the third
Japanese
naval vessel named for
Mount Kongo.
She was laid down by
Mitsubishi Heavy Industries in Nagasaki, Nagasaki
on 8 May
1990,
launched on 26 September
1991;
and commissioned on 25 March
1993.
In December
2007,
Japan
conducted a successful test of the
SM-3 block IA
against a ballistic missile aboard
Kongo.
This was the first time a
Japanese
ship was selected to launch the interceptor missile during a test of the
Aegis Ballistic Missile Defense System.
In previous tests they provided tracking and communications. -
Kushimaru says there is not an exact scale
, but is something about
1/270.
Esta versão em papel muito bem feita do Destroyer Kongo
, das
Forças Marítimas de Auto-Defesa do Japão
, foi criado pelo
designer japonês Kushimaru,
do site
Paper Model Studio
.
A classe Kongo é a quarta geração
de
contratorpedeiros de mísseis guiados (DDG)
e tem uma
aparência diferente
dos anteriores
DDG japoneses
. O
Japão
foi o
primeiro país (fora dos Estados Unidos)
a adquirir a
tecnologia AEGIS
de
defesa da frota
, montado nos
contra-torpedeiros da classe Kongo
. Construído pela
Mitsubishi Heavy Industries
em
Nagasaki
, foi lançado ao mar em
26 de Setembro de 1991
e entrou em serviço em
25 de março de 1993.
-
Kushimaru diz que não há em uma escala exata
, mas é
algo entre 1/270.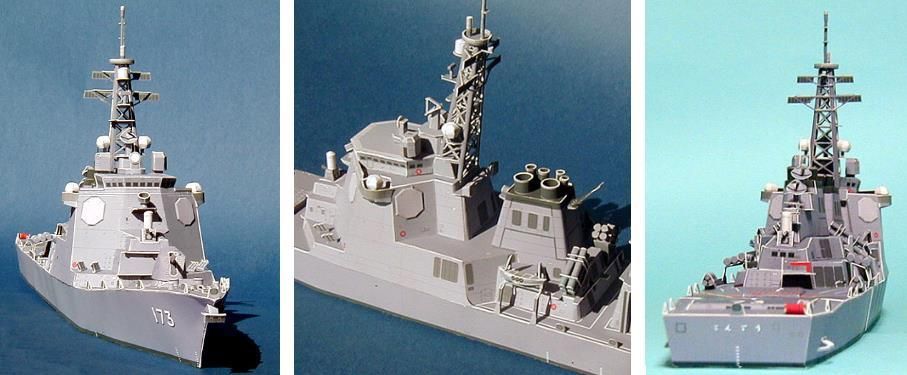 Link:
Maritime.Self.Defense.Force.Aegis.Destroyer.Kongo.Paper.Model.by.Paper.Model.Studio
More Paper Models of Boats and Ships related posts:
The Rowing Boat Paper Model - by Papermau - Download Now!
Paper Ships For RPG Games And Dioramas - by Pro Fantasy
Viking Ship Vintage Paper Model - by J T Digest Narod
Little Steam Boat Paper Model - by Lutz Kasper