Kerguelen is a friend designer and modeler from the Netherlands.
He kindly sent me
some paper models
he created some years ago and asked me to
share at the blog
. I have to say
I feel very honored to share these models here on the blog.
Kerguelen
said: -
"There is only 1 sheet. The model sheet is smaller than A4
, so it is
better to print it at 140% scale with the margins set at 0 (zero)
. I have only
one picture of the model,
but that
should be enough for most modellers.
I developed this model
long ago (>10 years)
and
the model itself is lost
. So no additional pictures." -
"Thanks, Kerguelen, for the nice model, the photo and for your words! Greetings from Brazil to Netherlands!" - Mauther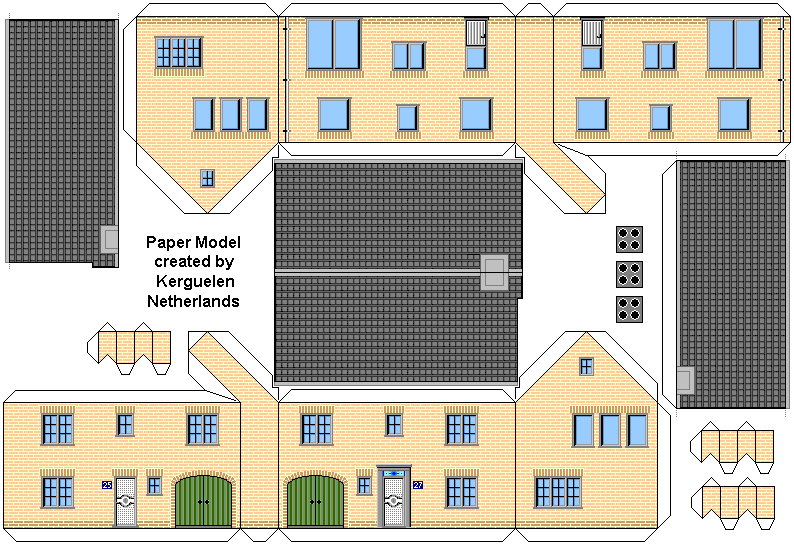 Kerguelen é um amigo designer e modelista da Holanda.
Ele gentilmente me enviou
alguns modelos de papel
que ele criou há alguns anos e me pediu para
compartilhar no blog
. Eu tenho que dizer que
me sinto muito honrado por poder partilhar estes modelos aqui no blog.
Kerguelen disse: -
"Há apenas uma folha. A folha original é menor que a A4
, então é melhor
imprimir em 140% e sem espaço para margens.
Eu tenho
apenas uma foto do modelo
, mas creio que dê
para se ter uma boa idéia
. Eu criei este modelo
faz bastante tempo (dez anos atrás)
e ele
já se perdeu
. Por isso não há mais fotos." -
"Muito obrigado, Kerguelen, pelo modelo, pela foto e pelas palavras! Saudações do Brasil à Holanda!" - Mauther
Link:
Two.Connected.Houses.Papercraft.In.HO.Scale.by.Kerguelen
More Paper Models of Architecture and Buildings in HO Scale related posts:
Abraham Lincoln Home In Springfield Paper Model - by Illinois History
Swedish Railway Museum In Hennan - by Berner Modellbautreff - Museu Ferroviário Sueco
New Wagons HO Scale - by Projekt Bastelbogen - Vagões Em Escala HO
Cooder`s Place General Store - by Evan Design - Armazém De Beira De Estrada
WW2 Bunker 1/87 scale - by Cougarman - via Kartonbau.De Forum