Created by Thai designer Tonchat Jaizue
, from
Tjaizue website
, this is the
paper toy of Kinnikuman
.
Kinnikuman is a manga series
created by the duo
Yoshinori Nakai and Takashi Shimada
, known as
Yudetamago
. It follows
Suguru Kinniku,
a
superhero
who must win a wrestling tournament to retain the title of
prince of Planet Kinniku
.
Nakai and Takashi
planned the series when they were attending high school originally as
a parody to Ultraman.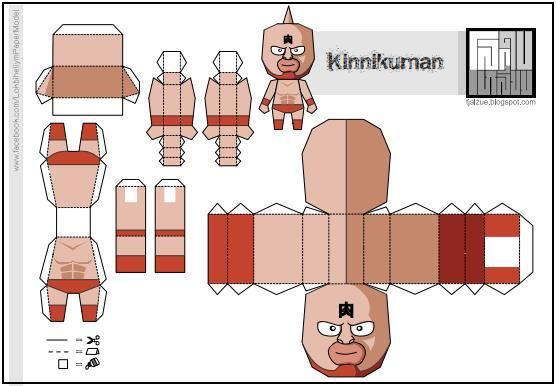 Criado pelo designer tailandês Tonchat Jaizue
, do
site Tjaizue
, este é o
paper toy do Kinnikuman
.
Kinnikuman é uma série de mangá
criada por
Yoshinori Nakai e Takashi Shimada
, dupla conhecida pelo nome de
Yudetemago
. A série conta a história de
Suguru Kinniku,
um
super-herói
que deve ganhar um campeonato de luta livre para defender o título de
príncipe do Planeta Músculo.
Link:
Kinnikuman.Suguru.Kinniku.Paper.Toy.by.Tonchat.Jaizue
More Anime and Mangá Paper Models related posts:
Totoro And Friends Paper Models - by Studio Of MM
Pokémon Papercraft - Bulbasaur, Ivysaur and Venusaur - by Paper Pokés
K-On Paper Toys - by Anime Paper Toys - Bonecas Estilo Cube Do Anime K-On
Tachibana Kanade Paper Doll - by Ani Papercraft - Boneca Estilo Anime