This is a Half-Timbered House
, a
typical architetural building from Germany
, and this
paper model was based in a real building situated in Wangen, a German city
.
Perfect for Dioramas, RPG and Wargames
, this model is offered by
Ausschneide Bogen
website and you can choose between
two different scales: HO (1/87 scale) and N (1/160 scale). To HO scale you will need 5 sheets of paper and to N scale you will need 2 sheets.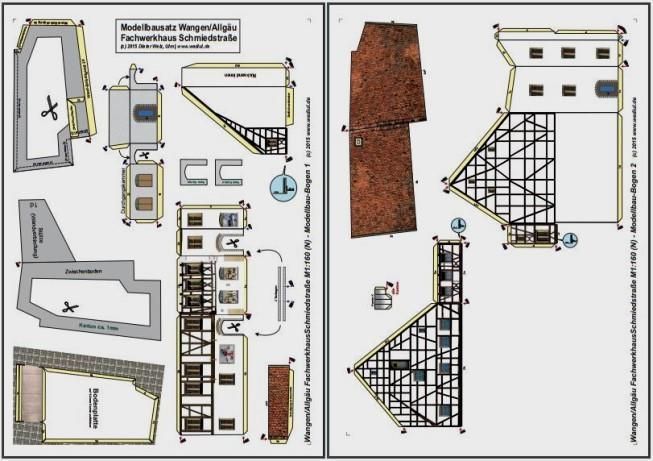 Esta é uma Casa Enxaimel,
uma
típica construção da Alemanha
, e este
modelo de papel basea-se em uma construção real situada na cidade alemã de Wangen.
. Perfeito para
Dioramas, RPG e Wargames
, este modelo é oferecido pelo site
Ausschneide Bogen
e você pode escolher entre
duas escalas: HO (1/87 escala) e N (1/160 escala). Para a escala HO você precisará de 5 folhas de papel e para a escala N, 2 folhas.
Link:
Half.Timbered.House.In.Wangen.Paper.Model.by.Ausschneide.Bogen
More Paper Models of Architecture and Buildings related posts:
Brazilian Abandoned House - by Papermau - Download Now
One Sheet Little Paper Villa - by Gunnar Sillén - Vila de Papel
French Gothic Cathedral - by Jump If Not Zero - Catedral Gótica
Desktop Architecture - Series 04 - by Papermau - Colonial Brazilian Churches