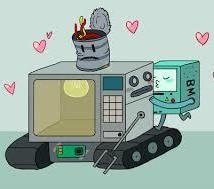 From Cartoon Network`s animation series Adventure Time,
here is
NEPTR, the Never Ending Pie Throwing Robot
, in a very nice
paper model version
created by
designer Paperized, from Paperized Papercraft website.
Finn made Neptr
from pieces of
junk stuck together with tape.
His components are
an electric oven, a soup can, a circuit-board, wires, a tuning-fork and small tank treads possibly from a toy.
Finn drew a face on the soup can
, intending it to function as his face, but the knobs on
Neptr's side became his face when he was brought to life.
Da série de animação original do Cartoon Network,
Adventure Time, eis aqui
NEPTR, o Robô Atirador de Tortas Sem Fim
, em uma
versão em papel bem legal
criada pelo
designer Paperized,
do site
Paperized Papercraft. Neptr é um robô que Finn criou
para
jogar tortas em Jake
no episódio
"O Que é Vida?".
Neptr é um microondas com rodas similares as de um tanque de guerra
porém menores, possívelmente de um
brinquedo.
Tem um
braço mecânico no seu lado esquerdo
e um
rosto em cima de seu braço
. Ele também tem uma
lata em cima de sua cabeça
com o
desenho de um rosto
e um tipo de
chip na parte de baixo de seu corpo.
Link:
Adventure.Time.Never.Ending.Pie.Throwing.Robot.Paper.Model.by.Paperized
More Paper Models of Robots related posts:
Machinarium Robot Paper Toy - by Modelgradas
Portal 2 - P-Body Robot Paper Model - by Digitprop
Androids And Robots Paper Toy Characters - by Outpost 76819
Botteck Robot Paper Toy - by The Paper Jam