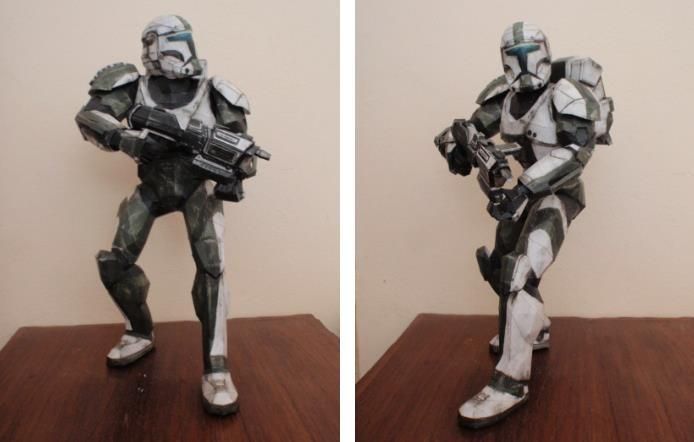 From Star Wars universe,
here is a very well done
paper model of a Clone Trooper,
created by
Thai designer Namotasa
, from
Thailand-Namotasa
website.
You will find the model in two formats
:
PDF and PDO (Pepakura)
, so you can
print the model with the PDF format and use the PDO format as guide,
because it
can be visualized in 3D.
If you don`t have
Pepakura Viewer Free Version
yet, the
link to download
is at the
end of this post.
Do universo de Star Wars
, este é um
modelo de papel
muito bem feito de um
Clone Trooper
, criação do
designer tailandês Namotasa
, do site
Thailand-Namotasa
.
Você encontrará o modelo em dois formatos: PDF e PDO (Pepakura),
então você pode usar o
PDF para imprimir as peças e o PDO como guia de montagem
, já que com ele você pode
visualizar o modelo em 3D.
Se você ainda não tem o programa
Pepakura Viewer Versão Gratuíta,
o
link para baixá-lo
se encontra no
final deste post.
Link to download the model:
Star.Wars.Clone.Trooper.Paper.Model.by.Thailand.Namotasa
Link to Pepakura Viewer Free Version:
Pepakura.Viewer.Free.Version.Official.Page
More Sci-Fi Paper Models related posts:
Dune`s Spice Harvester Paper Model - by The 4ce
Star Wars` Chewbacca Big Head Paper Toy - by Chemical 9
Spindrift Space Ship Paper Model - by Gary Pilsworth - via Dpileggi
Perry Rhodan - Stardust Space Ship - by Paper Aviation