On May 9, 2003, Japan launched the Hayabusa spacecraft into space.
Her mission? To
approach near-Earth asteroid 25143 Itokawa, photograph
it on approach,
land on its surface
,
collect the first asteroid dust samples,
and
return to Earth
. Two and a half years later, on
November 19, 2005, Hayabusa landed on the asteroid's surface
, but then critical systems failed,
the spacecraft was stranded in space,
and technicians on Earth tried to diagnose problems and
restart the spacecraft's engines to bring her home
.
After over seven years in space, Hayabusa reached Earth
and landed in
Australia on June 13, 2010
, and to
commemorate this momentous event the spacecraft is brought to life
as an
anime-styled personification figure.
This paper version of this cute mascot was created by Japanese designer Fumi-A.
- To
view and print this model
you will need
Pepakura Viewer Free Version
(
link at the end of this post
).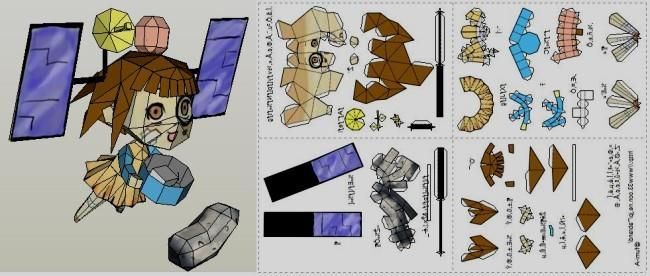 Em 9 de maio de 2003, o Japão lançou a sonda espacial Hayabusa.
Sua missão? Abordar o
asteróide 25143 Itokawa
,
fotografá-lo, pousar em sua superfície, recolher as primeiras amostras de poeira de asteróides e retornar à Terra
. Dois anos e meio depois, em
19 de novembro de 2005, a Hayabusa aterrissou na superfície do asteróide,
mas, em seguida, seus instrumentos falharam e a sonda
ficou estava encalhada no espaço
enquanto técnicos da Terra tentavam diagnosticar os problemas e
reiniciar seus motores para trazê-la para casa
. Depois de mais de
sete anos no espaço, a Hayabusa chegou à Terra
e
pousou na Austrália em 13 de junho de 2010
e para comemorar este importante evento
foi criada uma bonequinha
que seria a
personificação em estilo anime da brava sonda espacial. O resultado é esta simpática mascote paper doll, aqui em sua versão de papel criada pelo designer japonês Fumi-A.
- Para
visualizar e imprimir este modelo
você precisará do
Pepakura Viewer Versão Gratuíta
(
link no final deste post
).
Link to download the model:
Hyabusa.Tan.Spacecraft.Personification.Paper.Doll.by.Fumi-A
Link to Pepakura Viewer Free Version:
Pepakura.Viewer.Free.Version.Official.Page
More Anime and Mangá Style Paper Dolls related posts:
Chibi Madoka Magica Paper Dolls - by Tsunyandere
Horo Paper Doll In Anime Style - by XDiem - Boneca Estilo Anime
Yayo Paper Doll In Anime Style - by Fumi-A - Boneca Estilo Anime
Madoka Paper Doll Anime Style - by Kujira - Boneca Estilo Anime