By Japanese designer Saito, this is Yuno,
character from
Hidamari Sketch
,
Japanese anime and mangá
series.
Hidamari Sketch is a Japanese four-panel comic strip
by
Ume Aoki
, which revolves around the
daily lives of a group of young girls
, all living in the same apartment where artists gather. It was first serialized in the
magazine Manga Time Kirara Carat in April 2004
, published by
Houbunsha
. In the mangá,
Yuno, sometimes called Yunocchi by Miyako
, is a
young, playful girl
and main protagonist of the story. She lives in the
Hidamari apartments
, along with her close friends and
neighbors Miyako, Hiro, and Sae
. Her friends think of her as a very nice person.
Yuno dreams of being a great artist
someday. Although she is a
skilled artist
overall, she considers
painting and drawing her specialties.

Do designer japonês Saito, esta é Yuno,
personagem da série de
animes e mangás
Hidamari Sketch
.
Hidamari Sketch é um mnagá criado por Ume Aoki
, que gira em torno da
vida cotidiana de um grupo de jovens
, que vivem todos no mesmo apartamento onde artistas se reúnem. Foi serializado na revista
Manga Kirara Carat
em abril de
2004,
publicado pela
editora Houbunsha
. No mangá,
Yuno,
às vezes chamada de
Yunocchi por Miyako
, é, uma
menina brincalhona
e a principal personagem da história. Ela vive no
prédio de apartamentos Hidamari
, juntamente com seus amigos mais próximos e vizinhos
Miyako, Hiro, e Sae.
Yuno sonha em ser um grande artista algum dia
. Embora ela seja uma
artista hábil
em geral, ela considera
pintura e desenho suas especialidades.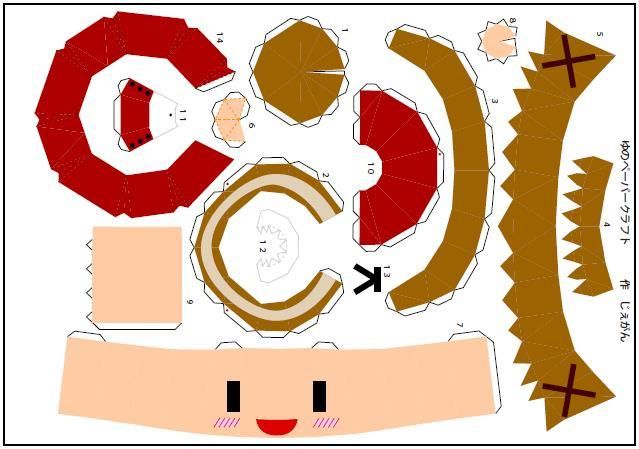 Link:
Hidamari.Sketch.Yuno.Paper.Doll.In.Chibi.Style.by.Saito
More Paper Dolls in Anime Style related posts:
Magical Girl Kazumi Paper Doll - by Seisaku Diary
Princess Paper Doll Anime Style - by Moekami
Morrigan Paper Doll Anime Style - by Alclione - via Fox In A Hole
Dissidia Final Fantasy - Vaan Gunmetal Vest - by Ace Crafts