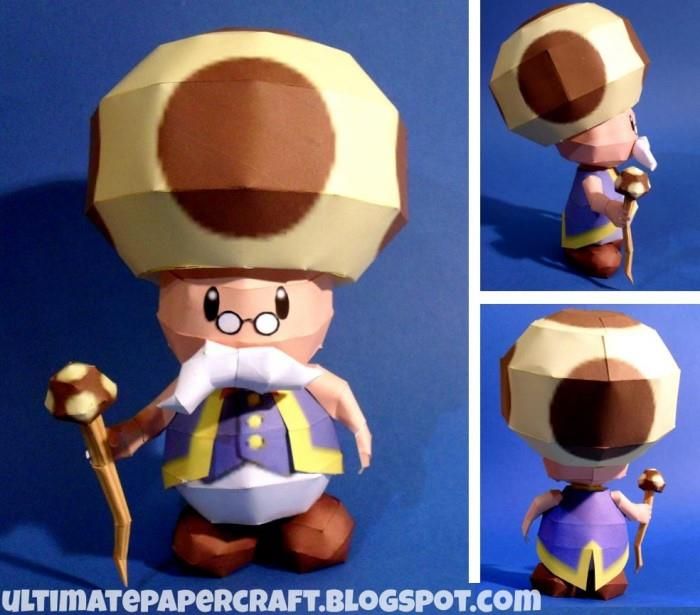 "Toadsworth is a Mario character
whose first appearance was in
Super Mario Sunshine,
as
Princess Peach's steward
. Since then he has had
various cameos and small roles
, especially in the
non platforming games
.
Download pack includes a lined and lineless version
." -
Ultimate Papercraft
-
You will find the model in two formats
:
PDF and PDO (Pepakura)
, so you can
print the model with the PDF format and use the PDO format as guide,
because it
can be visualized in 3D.
If you don`t have
Pepakura Viewer Free Version
yet, the
link to download
is at the
end of this post.

Toadsworth é um personagem dos games do Mario
, cuja primeira aparição foi em
Super Mario Sunshine
, como
mordomo da Princesa Peach
. Desde então, ele teve
várias participações especiais e papéis pequenos
, especialmente nos
jogos que não são de plataforma.
No pack para baixar estão inclusas versões em PDO (Pepakura) com linhas e sem linhas."
-
Ultimate Papercraft
-
Você encontrará o modelo em dois formatos: PDF e PDO (Pepakura),
então você pode usar o
PDF para imprimir as peças e o PDO como guia de montagem
, já que com ele você pode
visualizar o modelo em 3D.
Se você ainda não tem o programa
Pepakura Viewer Versão Gratuíta,
o
link para baixá-lo
se encontra no
final deste post.
Link to download the model:
Super.Mario.Sunshine.Toadsworth.Paper.Toy.by.Ultimate.Papercraft
Link to Pepakura Viewer Free Version:
Pepakura.Viewer.Free.Version.Official.Page
More Paper Models of Videogame Characters related posts:
Super Mario Paper Toy - by Ling-Kong's Papercraft Studio
Sonic Adventure 2 - Shadow The Hedgehog Paper Model - by Sabi96
Final Fantasy - Squall Leonhart Chibi Paper Doll - by Paper Juke
Raving Rabbids Paper Toy - Assassin`s Creed Version - by Paper Juke