Here are some really beautiful and original decorative paper models
created by
German designer Boris Voygt
, from
Projekt Bastelbogen
,
educative
website: these
Pyramidal Lanterns
are
great for iluminate a shelf or window.
And they are safe, because can be iluminated by those cheap LED lamps, that imitate candles.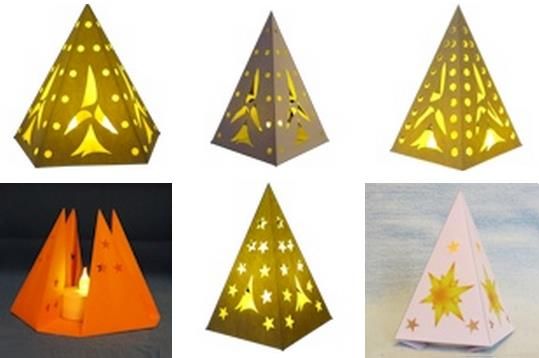 Aqui estão alguns modelos de papel decorativos bem bonitos e originais
criados pelo
designer alemão Boris
, do
site educativo Projekt Bastelbogen
: estas
Lanternas Piramidais
ficam
ótimas como decoração
de uma
estante ou no parapeito de uma janela
. E
são seguras,
pois podem ser usadas,
iluminadas por essas lâmpadas LED baratinhas, que imitam velas.
Link:
Decorative.Pyramidal.Lanterns.Paper.Models.by.Projekt.Bastelbogen
More Decorative Paper Models related posts:
Mount Fuji - World Heritage Celebration - by Paper Model Studio
Build Your Own Paper Globe - by How About Orange
Cactus Vase Decorative Paper Model - by Club Epson
Nocturnal Celestial Globe Paper Model - by Paperpino