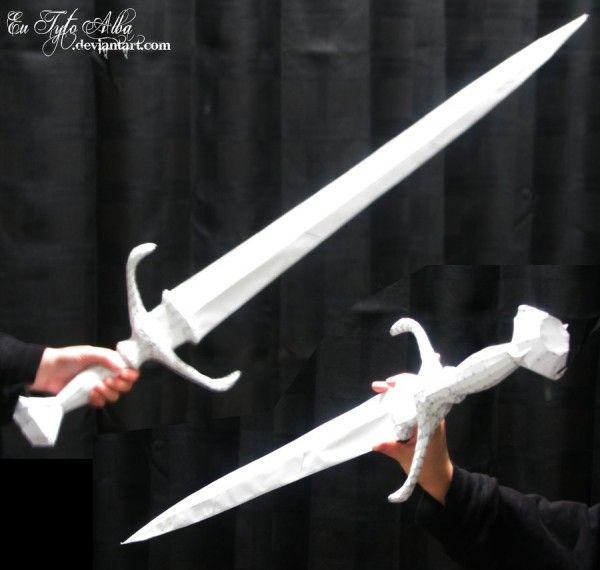 Cosplayers will love this very nice paper model in 1/1 scale
of the
Zar'roc Sword,
from
Eragon books
, created by
designer Suzanne
, from
Tower Dweller
website. To
download this free model
, just
add it to the cart and go to checkout.
In the new page
inform a valid e-mail and the link to download will be liberated.
You will find the model in two formats
:
PDF and PDO (Pepakura)
, so you can
print the model with the PDF format and use the PDO format as guide,
because it
can be visualized in 3D.
If you don`t have
Pepakura Viewer Free Version
yet, the
link to download
is at the
end of this post.

Os cosplayers irão adorar este modelo de papel bem legal em escala 1/1 da Espada de Zar'roc
, da
série de livros Eragon
, criada pela
designer Suzanne
, do site
Tower Dweller
. Para
baixar este modelo gratuíto
, basta
adicioná-lo ao carrinho e clicar em checkout.
Na nova página,
informe um e-mail válido e o link para download será liberado.
Você encontrará o modelo em dois formatos: PDF e PDO (Pepakura),
então você pode usar o
PDF para imprimir as peças e o PDO como guia de montagem
, já que com ele você pode
visualizar o modelo em 3D.
Se você ainda não tem o programa
Pepakura Viewer Versão Gratuíta,
o
link para baixá-lo
se encontra no
final deste post.
Link to download the model:
Eragon.Zar'roc.Sword.Paper.Model.In.1/1.Scale.by.Tower.Dweller
Link to Pepakura Viewer Free Version:
Pepakura.Viewer.Free.Version.Official.Page
More Paper Models in 1/1 Scale related posts:
Pikachu Papercraft In 1 / 1 Scale - by Paper Juke
Stormtrooper Helmet With EVA Foam In 1 / 1 Scale - by Julius Perdana/Paper Replika
Halloween Special - Twisted Metal - Needles Kane's Mask - by Paper Juke
Capitain America Shield In 1 / 1 Scale - by Scanner Joe