Kancho Iliev, the Russian designer of this cool paper model in 1/48 scale, says:
-
"The North American T-2 Buckeye was the United States Navy's intermediate training aircraft, intended to introduce U.S. Navy and U.S. Marine Corps Student Naval Aviators and Student Naval Flight Officers to jets. It entered initial service in 1959, and was replaced by the T-45 Goshawk in 2008."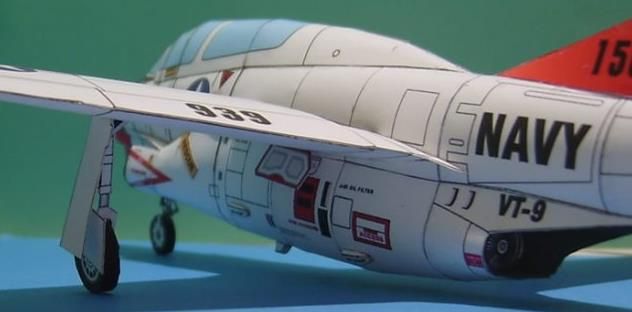 Kancho Iliev, o designer russo deste belo modelo de papel na escala 1/48, diz:
-
"O avião norte-americano T-2 Buckeye foi a primeira aeronave de treinamento intermediário da Marinha dos Estados Unidos da américa, com o objetivo de introduzir os aspirantes à Aviadores Navais e Oficiais o princípio de pilotagem de caças de combate. Ele entrou em serviço em 1959, e foi substituído pelo T-45 Goshawk em 2008."
Link:
North.American.T.2.Buckeye.Paper.Model.by.Kancho`s.Paper.Wings
More Nort American Aircrafts and Planes related posts:
F/A-18 Red Devil Hornet Paper Model - by Kim / Paper Replika
US Air Force F-100C Aircraft Paper Models In 1/72 Scale - by Asahi
Pearl Harbor Trilogy Paper Toy Planes - by Paper Foldables - via Paper Toy France
Curtiss Helldiver SBC-4 Aircraft In 1/100 Scale - by Papermodels-Bg