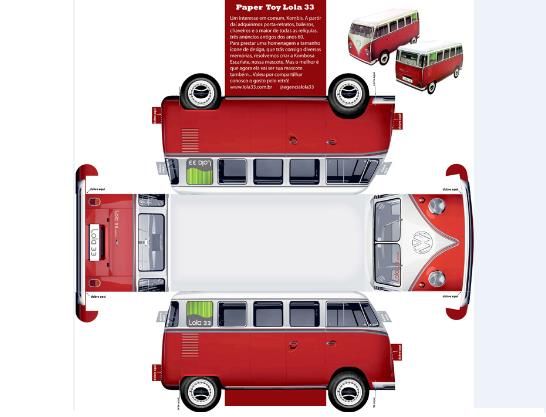 An easy-to-build Classic VW Kombi with realistic textures, created by Brazilian website Lola 33 and posted at Cogumelo Louco website.
Uma Kombi Clássica bem fácil de montar e com texturas realísticas, criada pelo pessoal do Lola 33 e postado no site Cogumelo Louco.
Link:
VW.Kombi.Paper.Model.by.Lola.33.via.Cogumelo.Louco
More Paper Models of Cars and Vehicles related posts:
Brazilian Armored Police Vehicle "Big Skull" Paper Model by Papermau Caveirão Do Bope - Download Now!
Are You on The Bus ? Paper Model For Kids - by David Butler
Volkswagen Van Gift Box Papercraft - by Floor Van Der Doelen
The Flintstones - Fred`s Car Paper Model - by Mike Daws