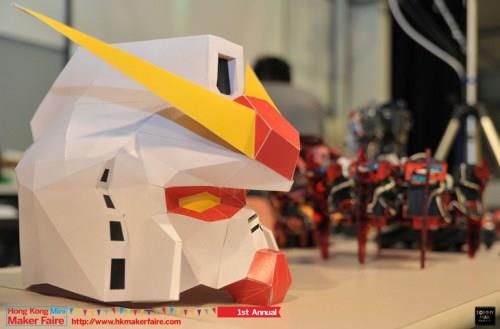 For those who like Gundams , here is a nice paper model of a Gundam Mask, created by Chinese designer Andy Kong and originally posted at Pepakura Gallery.
To view and print this model you will need Pepakura Viewer Free Version (link at the end of this post).

Para aqueles que gostam de Gundams, eis aqui uma bela máscara de Gundam criada pelo designer chinês Andy Kong e originalmente postada no site Pepakura Gallery.
Para visualizar e imprimir este modelo você precisará do Pepakura Viewer Versão Gratuíta (link no final deste post).
Link to download the model:
Gundam.Head.Paper.Model.by.Andy.Kong.via.Pepakura.Gallery
Link to Pepakura Viewer Free Version:
Pepakura.Viewer.Free.Version.Official.Page
More Paper Models of Gundams and Robots related posts:
Turbolabo SD RX-78NT-1 SD Gundam Paper Model - by Thailand Namotasa
5 cm Gundam Robot Chibi Style Paper Model - by WXY Paper
Xenon19 - RX-93-V2 Hi-v Gundam Bust - by Thailand Namotasa
Mazinger Z - Boss Borot Robot Paper Model - by Anime Mania