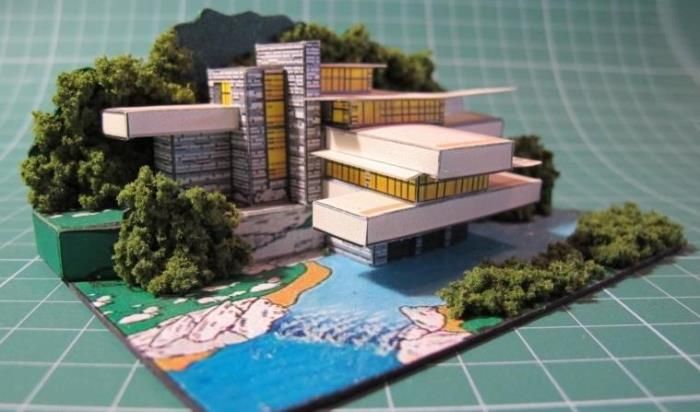 Model Assembled and Photo by Kevin WS
This is the Frank Lloyd Wright House, a free paper model from Paper.Toys.com. The model you see above was assembled by modeler Kevin WS and was originally posted at Paper Modelers Forum.
Thank you very much, Kevin WS for kindly allowing the use of your model to illustrate this post.
Esta é a Casa de Frank Lloyd Wright, um modelo de papel gratuíto que você pode baixar no site Paper Toys.Com. O modelo que você vê na foto acima foi montado pelo modelista Kevin WS e foi originalmente postado no Forum Paper Modelers.
Obrigado, Kevin WS, por permitir o uso da foto de seu modelo para ilustrar este post.
Link to download the model:
The.Weekend.Pic.Frank.Lloyd.Wright.House.by.Paper.Toys.Com
Link to construction report:
The.Weekend.Pic.Frank.Lloyd.Wright.House.by.Kewin.WS
About "The Weekend Pic" - It will always be an image of a free model, built by a designer found in forums, blogs or sites around the Net. I would like to ask the cooperation of all friends of the blog to indicate some models for this weekly post. The only requirement: the model needs to be freely distributed and there must be a link to this assembly or construction report.
Sobre "The Weekend Pic" - Será sempre uma imagem de um modelo gratuíto, construída por um designer achado ao acaso em foruns, blogs ou sites ao redor da Net. Eu gostaria de pedir a colaboração de todos para indicar modelos para este post semanal. A única exigência : o modelo tem que ser de livre distribuição e tem que haver um link para esta montagem, de preferência com fotos de várias etapas da montagem.
More The Weekend Pic related posts:
The Weekend Pic - The Clock Tower Diorama - by Papermau
The Weekend Pic - Horyuji Pagoda - by Alan G / Canon
The Weekend Pic - The Pharos - Lighthouse Of Alexandria - by Kurt Streu / Delta Seven Studios
The Weekend Pic - Leaning Tower Of Pisa - by Michel Cerfvoliste / Canon