A very nice papercraft project for Halloween:
Paper Witch Shoes
that can be used like
candy boxes.
And you can change the decoratrion
, to use it in
birthday parties, Christmas,
etc.
This very nice and easy project is from Skip To My Lou website.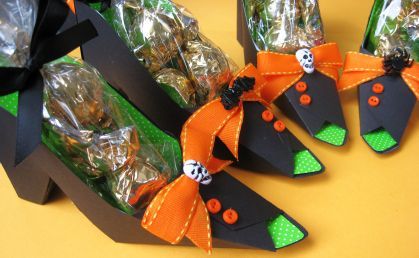 Um projeto de papercraft bem bacana para o Dia das Bruxas:
Sapatinhos de Bruxas
que podem ser
usados como porta-doces.
E você pode
mudar a decoração para usá-lo em festas de aniversário, bailes de debutantes, Natal,
etc.
Este projeto bem bacana e original vem lá do site Skip To My Lou.
Link:
How.To.Make.Paper.Witch.Shoes.by.Skip.To.My.Lou
More Papercraft Projects and Decoration related posts:
The Great Wave Of Kanagawa - 3D Decoupage - by Canon
Indian Vase Papercraft - by Ajay Suthar - via Paper Replika
Jar Box Papercraft - by Paper Matrix - Jarra De Papel
Chocolate Cake Paper Model - by Mike McDermott