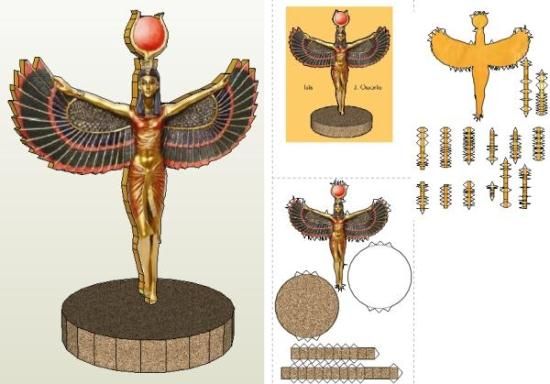 An easy-to-build paper model in 2D of Isis, Egyptian godess, created by Spanish designer J. Ossorio.
To view and print this model you will nedd Pepakura Viewer Free Version (link at the end of this post).
Uma estátua em 2D bem fácil de montar de Isis, deusa egípcia, criada pelo designe respanhol J. Ossorio.
Para visualizar e imprimir este modelo você precisará do Pepakura Viewer Versão Gratuíta (link no final deste post).
Link to the model:
Isis.Egyptian.Godess.Statue.Paper.Model.by.J.Ossorio
Link to Pepakura Viewer Free Version:
Pepakura.Viewer.Free.Version.Official.Page
More Egyptian Paper Models related posts:
Tutankamon`s Death Mask Paper Model - by Papermau - Máscara de Tutankamon
Egyptian Memory Game - by Papermau - Jogo Da Memória Egípcio
Giza Necropolis Pyramids - by Armada Models - Pirâmides de Gizé
Temple Of Horus - by Thomas Pleiner - Templo de Hórus