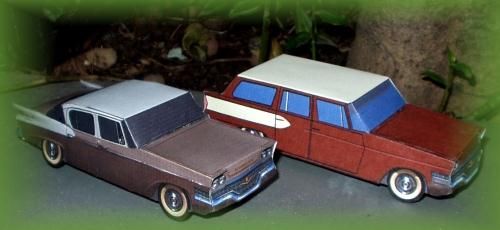 Hiperfanauto bring to us some very nice paper models of Classic American Station Wagons : 1957`s Studebacker Provincial, 1964`s Checker Marathon, and 1949`s Ford Station Wagon.
If you want one or all these nice models, just send a e-mail or let a message in the "comments" at Hiperfanauto`s.
Hiperfanauto nos brinda com uma série de Station Wagons Clássicos Norte-Americanos: Studebacker Provincial 1957, Checker Marathon 1964 e Ford Station Wagon 1949.
Se você quer um deles, ou todos, mande um e-mail ou deixe uma mensagem nos "comentários" do post destes Studebakers, lá no site do Hiperfanauto.

Hiperfanauto
is one of the
best sites about cars, motoring and a real encyclopedia about the history of competitive motoring in Brazil
and
Latin America
. Read the posts, even if they are translated with
Google Translator
is a small effort that pays off, the
knowledge acquired
about things any other way would be forgotten. And the old
photos are true rarities
.
Hiperfanauto
é um dos melhores sites sobre carros, automobilismo competitivo e uma verdadeira
enciclopédia sobre a história do automobilismo no Brasil e América Latina .
Visite o site e entenda a história do automobilismo, de uma forma que parece que você está ouvindo um amigo, um cara que viveu aquilo e sabe contar muito bem essas histórias.
São passagens de nossa história que de outra maneira seriam esquecidas.
Isso, sem falar nas fotos, de épocas e lugares hà muito esquecidos.
Link to the models page:
Classic.American.Station.Wagon.Paper.Cars.by.Hiperfanauto
Link to Hiperfanauto`s main page:
Hiperfanauto.Main.Page
More Classic Vehicles related posts:
Chevrolet Chevelle 1970 Straight To Hell - by Papermau - Download Now!
Ford Hot Rod 32-33 Paper Model - by Pixel Oz
Roadster "Orange Juice" - by Papermau
2002`s Ferrari Enzo Paper Car - by Mame Craft