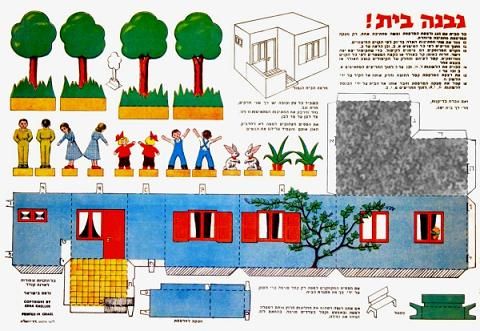 Pattern designed by Israeli Erna Kneller between the fifties and sixties.
This nice
vintage paper model
was
preserved and shared by Toto
, from
Italian
blog
Il Favoloso Mondo Di Carta di Toto.
Este modelo foi desenhado pela israelense Erna Kneller entre os anos de 1950 e 1960.
Este belo paper model antigo foi
preservado e compartilhado por Toto
, do blog
italiano
Il Favoloso Mondo Di Carta Di Toto.
Link:
1950`s.Israeli.House.Diorama.Papercraft.by.Toto
More Vintage Paper Models related posts:
Vintage Japanese Tatebanko - by John Wagenseil - via Paper Modelers - Tatebanko Japonês
Paper Model History - Uncle Tom's Cabin Paper Dolls, Boston Sunday Globe, 1896 - via Antique Toy Chest
1984`s The Innocents Castle Papercraft - by Kaukapedia - Castelo Alemão
Vintage House Paper Model With Furniture - via Casita De Papel