A perfect model
of a
McLaren F1 GTR
, by
Indonesian
designer
Yuthdaw
, from
My Paper Model blog.
Um modelo perfeito de uma
McLaren F1 GTR
, do designer indonésio
Yuthdaw
, do blog
My Paper Model.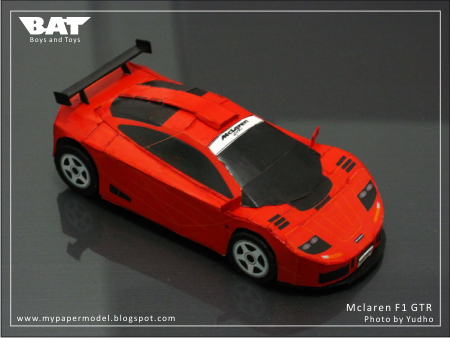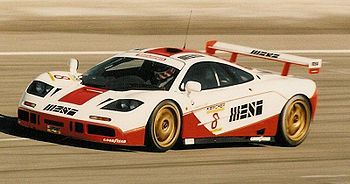 The McLaren F1 GTR '95 of West Racing at Circuit Paul Ricard.
The McLaren F1 GTR
was a racing variant of the
McLaren F1
sports car first produced in
1995
for grand touring style racing, such as the
BPR Global GT Series, FIA GT Championship, JGTC, and British GT Championship.
It is most famous for its overall victory at the
1995 24 Hours of Le Mans
where it beat out faster purpose-built prototypes.
McLaren F1 GTR
s raced internationally until
2005
when the final race chassis was retired. -
Wikipedia
O McLaren F1
é um carro super desportivo, construído de
1991 até 1998
. Por duas vezes bateu o recorde de veículo de rua mais rápido do mundo: de
1994 a 1998
, com
374 km/h;
e de
1998 a 2005
, com
386,5km/h.
Tal recorde foi possível graças à sua aerodinâmica revolucionária, a sua leveza (o seu chassis é de fibra de carbono, material de alta resistência e leveza e seu motor é feito em alumínio. Tais fatores, contribuem para que o carro pese
"apenas"
pouco mais que uma tonelada.) e ao seu motor incrivelmente bem ajustado. Também há um registo documentado em vídeo, do carro alcançando a absurda velocidade de
391 km/h,
tendo como velocidade máxima no velocímetro,
400 km/h.
-
Wikipedia
The Real Thing
Link:
McLaren.F1.GTR.Paper.Car.by.Yuthdaw
More Cars and Vehicles related posts:
BMW Z4 M Coupe Paper Car - by Farewell The End
Classic Racing Cars - by Keroliver - Carros De Corrida Clássicos
Porsche 934 RSR Turbo SD - by Pepakura Gallery