Created by French designer Jérémy Liochon
, from
Hellsword Papercraft
, this is
Nyako, the Cat in the Box
. With
7 cm tall
, this is
a nice decor for your desktop.
-
You will find the model in two formats
:
PDF and PDO (Pepakura)
, so you can
print the model with the PDF format and use the PDO format as guide,
because it
can be visualized in 3D.
If you don`t have
Pepakura Viewer Free Version
yet, the
link to download
is at the
end of this post.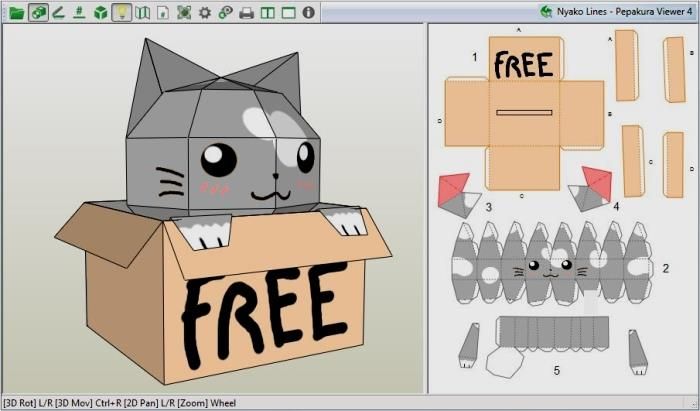 Criado pelo designer francês Jérémy Liochon
, do site
Hellsword Papercraft
, este
Nyako, o Gato na Caixa
. Com
apenas 7 cms de altura
, ele será uma
delicada decoração na sua mesa de trabalho.
-
Você encontrará o modelo em dois formatos: PDF e PDO (Pepakura),
então você pode usar o
PDF para imprimir as peças e o PDO como guia de montagem
, já que com ele você pode
visualizar o modelo em 3D.
Se você ainda não tem o programa
Pepakura Viewer Versão Gratuíta,
o
link para baixá-lo
se encontra no
final deste post.
Link to download the model:
Nyako.Cute.Cat.In.A.Box.Paper.Model.by.Hellsword.Papercraft
Link to Pepakura Viewer Free Version:
Pepakura.Viewer.Free.Version.Official.Page
More Paper Toys related posts:
The Snorfs - Little Gnomes Paper Toys - by 3YedBear - Gnomos
Hulmet Paper Toys In Cubic Style- by Justus Product
Dookie-Poo Lounge Paper Toy Diorama - by Many Galan
Matryoshka Paper Dolls - by Digitprop - Bonecas Matroska