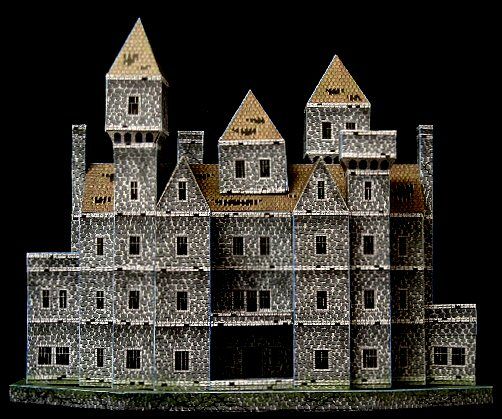 "This gloomy old mansion
was built in
1817
by
Gideon Darc
, a man with a
most unpleasant reputation
. In fact, the entire
Darc family
was always
feared and shunned by the local villagers
. Of course, the last known members of the
Darc family
passed away over a hundred years ago.
But the
villagers still whisper about their terrible deeds
, and the
Darc
property is avoided by everyone. Still,
you might enjoy owning the place if you don't mind drafty rooms.
And
there aren't many ghosts
, it's mostly just full of
shadow people."
-
Ray O`Bannon
"Esta antiga e sombria mansão
foi construído em
1817
por
Gideon Darc
, um
homem com uma reputação
, como podemos dizer,
não das mais agradáveis
. Na verdade, a
família Darc
inteira sempre foi
temida e evitada pelos moradores locais.
Obviamente, olhando para o estado da casa, percebe-se que os
últimos membros conhecidos da
família Darc morreram há mais de cem anos atrás
. Mas
a vizinhança ainda sussurra sobre seus atos terríveis
, e a
propriedade
Darc
é evitada por todos.
Ainda assim,
você pode adquirir o lugar,
se você não se importar com os
aposentos lúgubres.
E
não há muitos fantasmas
; a
Mansão Darc
está mais para, como poderíamos dizer,
vultos
, ou ainda, para
pessoas das sombras."
-
Ray O`Bannon
Link:
Halloween.Special.The,Darc.Mansion.Paper.Model.by.Ravensblight
More Halloween themed Paper Models related posts:
Halloween Special - Friendly Frankenstein Paper Toy - by Chemical 9
Rock`n`Roll Circus - Lemon Out Of Jail - by Papermau - Download Now!
Halloween Special - Cute Halloween Paper Toys - by Kumarila
My Life Is Better Than Yours Paper Toy Series - by Marko Zubak