In the 1970s, some inventors from the University of California
had the idea to
modify a VW Beetle
into a
camper
. If you
liked this and want to know more
and
download the paper model,
of course, take a vist to
Paper Diorama, Italian website
. This model is in
1/43 scale.
Na década de 1970, alguns inventores da Universidade da Califórnia
tiveram a idéia de t
ransformar um VW Beetle,
o nosso
Fusquinha em um camper, ou mini-trailer
. Se você
gostou e quer saber mais
e
baixar o modelo de papel,
obviamente, faça uma visita ao site
Paper Diorama, da Itália.
Este modelo está na
escala 1/43.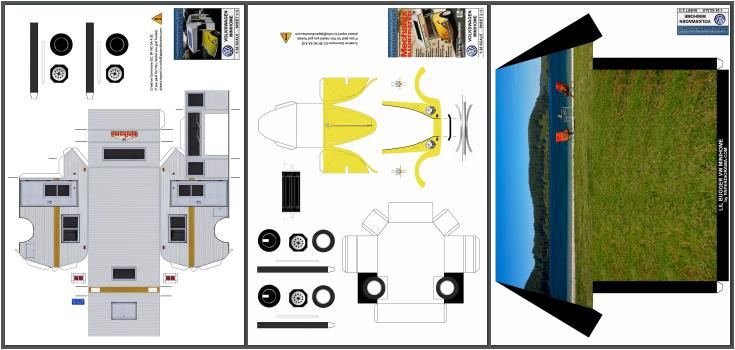 Link:
1970`s.Volkswagen.Motorhome.Paper.Model.by.Paper.Diorama
More Paper Models of Cars and Vehicles in 1/43 Scale related posts:
Aero Willys Brazilian Paper Car - by Hiperfanauto - Aero Willys Brasileiro
Dakar Rally Trucks Paper Models - by Modely Dody - via Papermodelers.Sk
Camp-Inn Trailer With Interior - by Tesserault - Trailer De Viagem Francês
The Weekend Pic - Citroen HY Camper - by Michel Cerfvoliste / Camille