These tiny 18th Century Ships
were created by
Jeffrey Knudsen, from War Artisan's Workshop
website and here you can see them
whimsically assembled by my friend, The Carpet General.
I am grateful to both for the beautiful works.
Below you will find a
link to The Carpet General`s website
, where you can
know more about the work of this great board game enthusiast
and also the
link to Jeffrey Knudsen`s website
, where you can
download the templates to build your own 18th Century Ships.
Estes minúsculos Navios do Século XVIII
foram criados por
Jeffrey Knudsen
, do site
War Artisan's Workshop
e aqui você pode vê-los
caprichosamente montados por meu amigo
,
The Carpet General.
Eu agradeço a ambos pelos belos trabalhos
. Abaixo você encontrará um
link para o site do The Carpet General,
onde você pode
saber mais sobre o trabalho deste grande entusiasta dos jogos de tabuleiro
e também o
link para o site de Jeffrey Knudsen
, onde você pode
baixar os templates
para
montar seus próprios Navios do Século XVIII.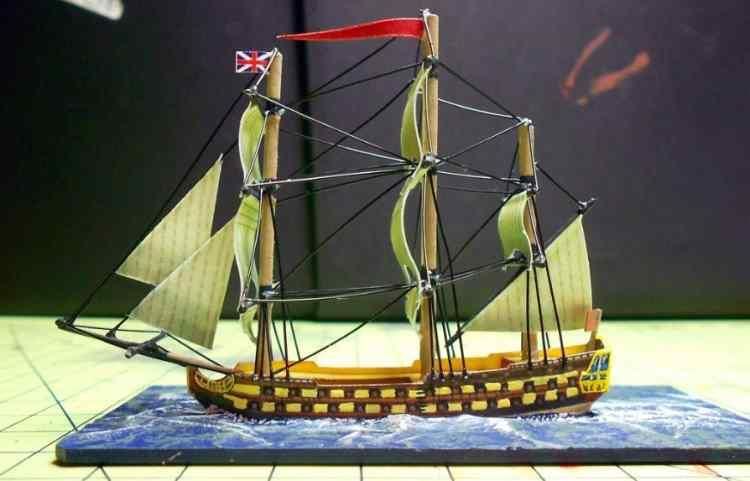 Link to The Carpet General website:
Carpet.General.Wargames.Enthusiast.Website.Main.Page
Link to War Artisan's Workshop website:
18th.Century.Ships.Paper.Models.by.War.Artisan's.Workshop
About the Ephemeral Museum:
I "am in the paper modeling" since 2005
, although I've had
contact with paper models from my childhood in the 1970s
, via
magazines
that were
sold sporadically in newsagents
. I remember
magazines with houses to build
and
dioramas/playsets
of
airports, western forts, nativity scenes
and the like. With the
advent of the internet
what happened was simply a
revival of the papercraft hobby
for
me
and
many other people of my generation.
The
Ephemeral Museum
is
a place where I will show
some of the
models that I built all these years.
I would also like this
to be a space where all modelers friends could show their work
, so
if anyone wants to participate in this "museum"
, just
send photos of your work and a few words, if you want, to the e-mail:
mautherous@gmail.com
All who submit their work will be published, without exceptions.
Eu "estou no papelmodelismo" desde 2005
, embora eu já
tivesse contato com modelos de papel desde minha infância
, nos
anos 1970,
via
revistas que eram vendidas esporadicamente em bancas de jornal
. Lembro que haviam
revistas com casas para montar e dioramas/playsets de aeroportos, fortes-apache, presépios
e coisas do tipo. Com o
advento da internet
o que houve foi simplesmente um
renascimento do hobby do papelmodelismo para mim e muitas outras pessoas de minha geração
. O
Ephemeral Museum
é um lugar aonde
irei mostrar alguns dos modelos que eu construí em todos estes anos
. Também gostaria que esse fosse
um espaço aonde todos os amigos modelistas pudessem mostrar seus trabalhos
, sendo assim, s
e alguém quiser participar deste "museu", basta mandar fotos de seu trabalho e algumas palavras
para o
e-mail abaixo:
mautherous@gmail.com
Todos que enviarem seus trabalhos serão publicados, sem exceções.
More The Ephemeral Museum related posts:
The Ephemeral Museum - An Ancient Ship Papercraft - by Papermau
The Ephemeral Museum - 1957`s Chevy Monster 4X4 Paper Model - by James Catalano
The Ephemeral Museum - Sherman "Fury" M4A3E8 Tank Paper Model - Assembled by Tim Crowe
The Ephemeral Museum - Yamaha YZF-R1 Motorcycle Paper Model - Assembled by Matheus Tarsis Fernandes