Created by Mexican designer and modeler Divinum Tragedy
, from
Crisis Craft website
, this is the
paper model version of Cave
, character from
Hyperdimension Neptunia
, a
RPG video game series for Playstation 3 and 4
created and developed by
Idea Factory.
-
You will find the model in two formats
:
PDF and PDO (Pepakura)
, so you can
print the model with the PDF format and use the PDO format as guide,
because it
can be visualized in 3D.
If you don`t have
Pepakura Viewer Free Version
yet, the
link to download
is at the
end of this post.
-
ATTENTION:
The PDO template only opens with version 3 of Pepakura Viewer.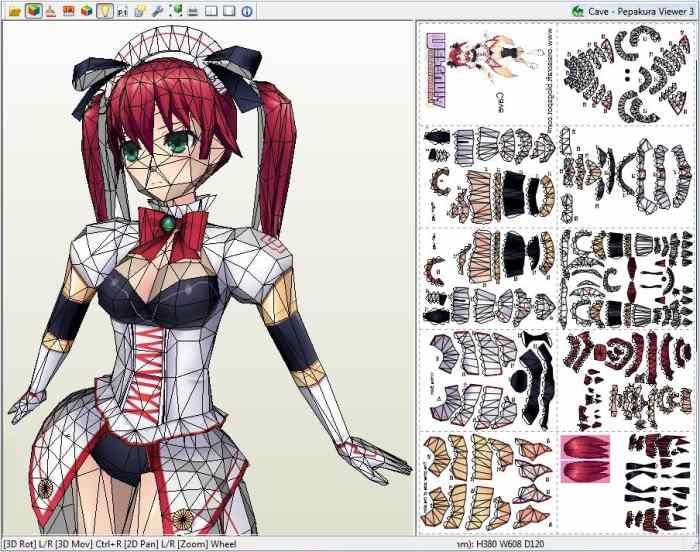 Criada pelo designer e modelista mexicano Divinum Tragedy
, do site
Crisis Craft
, esta é a
versão em papel de Cave
, personagem de
Hyperdimension Neptunia
, uma
série de jogos de RPG para Playstation 3 e 4
criada e desenvolvida pela
Idea Factory.
-
Você encontrará o modelo em dois formatos: PDF e PDO (Pepakura),
então você pode usar o
PDF para imprimir as peças e o PDO como guia de montagem
, já que com ele você pode
visualizar o modelo em 3D.
Se você ainda não tem o programa
Pepakura Viewer Versão Gratuíta,
o
link para baixá-lo
se encontra no
final deste post.
-
ATENÇÃO:
O modelo em PDO só abre com a versão 3 do Pepakura Viewer.
Link to download the model:
Hyperdimension.Neptunia.Cave.Paper.Model.by.Crisis.Craft
Link to Pepakura Viewer Free Version:
Pepakura.Viewer.Free.Version.Official.Page
More Paper Models of Videogame Characters related posts:
Super Mario Galaxy 2 - Cloud Mario Paper Model - by Sabi96
Dissidia 12 Final Fantasy - Vaan Pirate Paper Model - by Crisis Craft
Plants Vs. Zombies - Zombies Paper Toys - by Maya In Paper
Fairy in a Bottle Papercraft - by Nintendo Papercraft