This is the Mitsubishi ATD-X "X-2",
an
easy-to-build papercraft plane
that
actually flies
. The
author of the model
could make it
fly a distance of 15 meters
.
Children can compete
to see
who throws the plane farther
or who can
bring it over a predetermined target
. This model occupies
only one sheet of paper
and is offered by
Paper Model Studio, from Japan.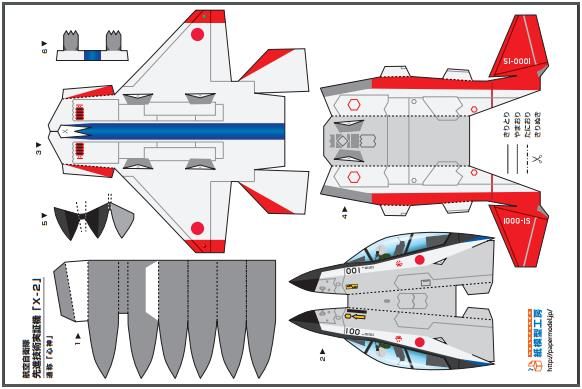 Este é o Mitsubishi ATD-X "X-2"
, um
avião de papel bem fácil de montar que realmente voa.
O
autor do modelo conseguiu
fazê-lo voar à uma
distância de 15 metros.
As
crianças podem competir
para ver
quem lança o avião mais longe
ou quem consegue
aproximá-lo mais de um alvo pré-determinado.
Este modelo ocupa
apenas uma folha de papel
e é oferecido pelo site
Paper Model Studio, do Japão.
Link:
Air.Self.Defense.Force. Advanced.Technology.Aircraft.Mitsubishi.X-2.Paper.Model.by.Paper.Model.Studio
More Paper Models of Aircraft and Planes That Really Fly related posts:
Porco Rosso - Savoia S21 Aircraft Paper Model That Really Flies - by H.Nishimoto
Build Your Own Glider Papercraft That Really Flies - by Morning Cafe
Paper Airplanes That Really Fly - by Amazing Paper Airplanes
WW2`s Messerschmitt Bf109E Paper Model That Can Really Fly - by Nozaranto