Created by my friend
, the
designer and modeler Paperized
, this is the
paper toy version of Shoko Nishimiya
, character from
A Silent Voice, mangá and anime Japanese series.
She is a young, deaf transfer student
with an
amazingly positive outlook on life
. Despite being a
victim of continuous bullying
, she
always keeps a smile on her face.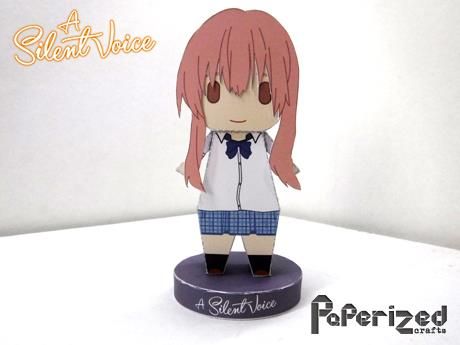 Criada pelo meu amigo
, o
designer e modelista Paperized,
esta é a
versão paper toy da Shoko Nishimiya
, da
série de animes e mangás japonesa japonesa A Silent Voice
.
Shoko Nishimiya
é uma
estudante que veio de outro colégio, surda
, mas com
uma visão surpreendentemente positiva na vida
. Apesar de ser uma
vítima de bullying contínuo
, ela
sempre mantém um sorriso em seu rosto.
Link:
A.Silent.Voice.Shoko.Nishimiya.Paper.Toy.by.Paperized
More Anime and Mangá Paper Models related posts:
Akemi Homura Paper Doll In Anime Style - by Kujira
Haruka Paper Doll In Anime Style - by S.V. Ameblo
Pikachu Papercraft In 1 / 1 Scale - by Paper Juke
Hatune Miku Paper Doll Anime Style - by Paper Works