Half Life is one of the best first person videogames I ever played
and although nowadays it can be
outdated,
in
1998,
when it was released,
innovated with a very well done storyline
and its
continuation released in 2004
, inovated again with its
realistic physics effects.
For those who do not know,
Counter Strike is a multplayer derivation of this game.
This
paper toy of Morgan Freeman,
main character of this
great videogames series
, in
Minecraft style
, was created by
designer and modeler Chippy,
from
Pixel Papercraft website.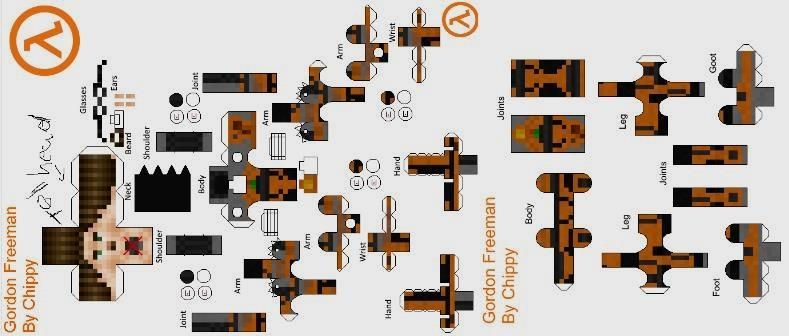 Half Life é um dos melhores games de primeira pessoa que eu já joguei
e, embora hoje em dia
esteja ultrapassado
, em
1998
, quando foi lançado,
inovou com um enredo muito bem feito
e sua
continuação de 2004
foi além, com seus
realísticos efeitos de física
. Para quem não sabe, o
Counter Strike é uma derivação multplayer deste jogo.
Este
paper toy do Gordon Freeman,
principal personagem desta
grande série de games
, em
estilo Minecraft,
foi criado pelo
designer e modelista Chippy
, do site
Pixel Papercraft.
Link:
Half.Life.Gordon.Freeman.Paper.Toy.In.Minecraft.Style.by.Chippy
More Paper Models of Videogame Characters related posts:
Super Mario Paper Toy - by Ling-Kong's Papercraft Studio
Sonic Adventure 2 - Shadow The Hedgehog Paper Model - by Sabi96
Final Fantasy - Squall Leonhart Chibi Paper Doll - by Paper Juke
Raving Rabbids Paper Toy - Assassin`s Creed Version - by Paper Juke