This is the ReDead,
from the
Nintendo`s videogame Ocarina Of Time 3D.
This really nice
paper model version of the ReDead
was created by
French designer and modeler Sabidiet
, from
Paper Zelda website.
You will find the model in two formats
:
PDF and PDO (Pepakura)
, so you can
print the model with the PDF format and use the PDO format as guide,
because it
can be visualized in 3D.
If you don`t have
Pepakura Viewer Free Version
yet, the
link to download
is at the
end of this post.
Este é o ReDead
, do
videogame Ocarina Of Time 3D, da Nintendo
. Esta
versão em papel muito bem feita do ReDead
foi criada pelo
designer e modelista francês Sabidiet,
do site
Paper Zelda.
Você encontrará o modelo em dois formatos: PDF e PDO (Pepakura),
então você pode usar o
PDF para imprimir as peças e o PDO como guia de montagem
, já que com ele você pode
visualizar o modelo em 3D.
Se você ainda não tem o programa
Pepakura Viewer Versão Gratuíta,
o
link para baixá-lo
se encontra no
final deste post.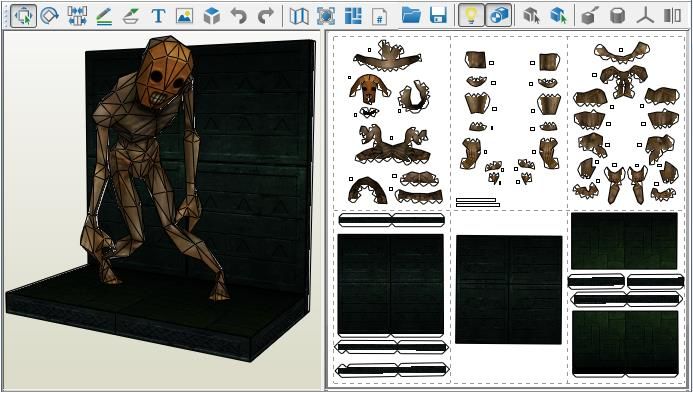 Link to download the model:
Halloween.Special.Ocarina.Of.Time.3D.ReDead.Paper.Model.by.Sabidiet
Link to Pepakura Viewer Free Version:
Pepakura.Viewer.Free.Version.Official.Page
More Halloween Paper Models related posts:
The Dark Promise Pirate Ship - by Ravens Blight - Nau Pirata
Halloween Special - Zombie Freud Paper Toy - by Matt Hawkins
Halloween Special - Complete Halloween Party Kit - by Kirin
Inquisition Hanging Cage Diorama - by Professor Plastik - Diorama Medieval - Inquisição