Created by North American designer Bryan Tan,
aka
RocketmanTan
, this is the
paper model version in 1/500 scale
of the
Steam Clipper Agamenon.
SS Agamemnon
was
one of the first successful long-distance merchant steamships
. She was
built in 1865
to
trade between Britain and China
, and competed with
tea clippers
before and after the
opening of the Suez Canal in 1869.
She brought together
three improvements in steamship design: higher boiler pressure
, an
efficient and compact compound steam engine
, and a
hull form with modest power requirements.

Criado pelo designe rnorte-americano Bryan Tan, aka RocketmanTan,
este é o
modelo de papel na escala 1/500
do
Navio à Vapor SS Agamenon.
O
SS Agamenon foi um dos primeiros navios mercantes à vapor de longa distância bem sucedidos
. Ele foi
construído em 1865
para ligar os
mercados do Reino Unido e da China
, e competiu com os
navios à vela
antes e depois da
abertura do Canal de Suez em 1869.
Ele reuniu
três melhorias no design do navio a vapor: uma maior pressão da caldeira,
um
motor à vapor mais eficiente e compacto
, e um
design do casco mais aerodinâmico, que diminuia o arrasto.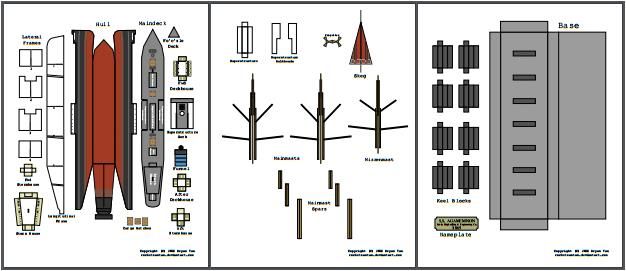 Link:
Steam.Clipper.Agamemnon.Paper.Model.In.1/500.Scale.by.RocketmanTan
More Paper Models of Boats and Ships related posts:
64-Gun Ship In 1/900 Scale - by War Artisan`s - Nau de Guerra
Titanic Sunk Paper Model - by Papermau - More One Next Project
Little Steam Boat Paper Model - by Lutz Kasper
The Ghost Ship Paper Model - by Ravens Blight - Navio Fantasma