Offered by Paper Diorama, Italian website,
here is the
WWI`s Fokker Dr.I German Triplane.
Undoubtedly the most famous fighter of World War 1,
the
Fokker Dr.I
was a revelation when it
entered service on the western front in 1917
.
Manfred von Richthofen (the mythic Red Baron)
was the
first Jasta
to
completely re-equip with the new fighter
, and
in the skilled hands of its numerous aces the Dr I proved a formidable opponent.
This model occupies only
two sheets of paper
,
with the stand
and is in
1/64 scale.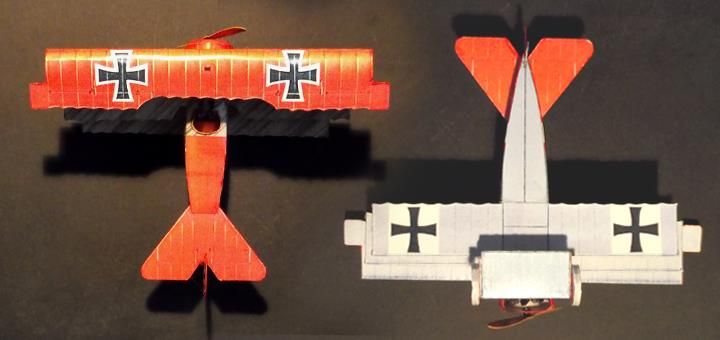 Oferecido pelo site Paper Diorama, da Itália,
este é o
modelo de papel
do
triplano alemão Fokker Dr.I
, da
Primeira Grande Guerra.
Sem dúvida, o
mais famoso avião da Primeira Guerra Mundial
, o
Fokker Dr.I
foi uma revelação quando
entrou em serviço na frente ocidental em de 1917
.
Manfred von Richthofen (o mítico Barão Vermelho)
e seu
esquadrão
foram
os primeiros a dominar o novo avião,
e em
suas mãos hábeis
, o
Dr.I provou ser um oponente formidável.
Este modelo ocupa apenas
duas folhas de papel
,
contando com o stand
e está na
escala 1/64.
Link:
WWI`s.Fokker.Dr.I.German.Triplane.Paper.Model.by.Paper.Diorama
More WWI Aircraft Paper Models related posts:
WWI`s Morane Saulnier Typ N Aircraft In 1/33 Scale - by Modele Kartonowe
René Fonck`s Spad XIII WWI Aircraft - by Patrick Pasques
WWI`s Aircraft Engines In 1/33 Scale - by Sero Paper Models
A Collection Of Eleven Fokker Dr.1s WW1 Planes - by Rubenandres77