Offered by Paper Fun Korea website
, this is a
very original paper model
of a
Dung Beetle
.
Dung beetles are beetles that feed partly or exclusively on dung.
A
dung beetle
can
bury dung 250 times heavier than itself in one night.
Many
dung beetles
, known as
rollers, roll dung into round balls
, which are
used as a food source or brooding chambers.
Others, known as
tunnelers, bury the dung wherever they find it
. A third group, the
dwellers, neither roll nor burrow: they simply live in manure.
Dung beetles live in many habitats, including desert, farmland, forest, and grasslands
. They do
not prefer extremely cold or dry weather.
They are
found on all continents except Antarctica.
They are often
attracted by the dung collected by burrowing owls
.
Dung Beetles
can grow to
3 cm long and 2 cm wide.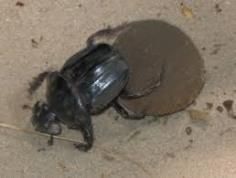 Oferecido pelo site Paper Fun Korea
, este é um
modelo de papel bem original de um Besouros do Esterco
.
Besouros do Esterco ou Escaravelhos
são
besouros que se alimentam, em parte ou exclusivamente deo esterco
. Um
besouro de esterco pode enterrar 250 vezes seu peso em estrume
em uma
única noite.
Muitos besouros
, conhecidos como
roladores
,
moldam o esterco em bolas redondas
, que são usados como
fonte de alimento ou câmaras de ninhagem
. Outros, conhecidos como
tunelizadores
,
enterram o esterco onde quer que o encontrem
. Um
terceiro grupo, os moradores
,
nem rolam nem enterram: eles simplesmente viver no estrume
. Eles são muitas vezes
atraídos pelo esterco coletado por corujas
. Eles se
adaptam a muitos habitats, incluindo desertos, campos agrícolas, florestas e pastagens.
Eles n
ão se dão bem em ambientes extremamente frios ou secos
. São
encontrados em todos os continentes, exceto na Antártida.
Besouros de estrume
pode alcançar até
3 cm de comprimento e 2 cm de largura.
Link:
Dung.Beetle.Paper.Model.by.Paper.Fun.Korea
More Paper Models of Animals related posts:
Scorpion Paper Model - by Wombat
Endangered Animals - Sea Turtles Paper Models - by Japanese Fisheries Research Agency
Photorealistic Fruit Bat Paper Model - by Education Scholastic - Morcego Realista
Chameleon Paper Model - by Raspera - Camaleão