Created by North American designer and modeler Zenny
, aka
Zenturtle651692
, here are
Armin, Mikasa and Eren
, from
Attack on Titan
, with all
their special gear.
Attack on Titan
is a
Japanese manga series written and illustrated by Hajime Isayama
. The series began in
Kodansha's Bessatsu Shōnen Magazine
on
September 9, 2009
, and has been collected into
19 tankōbon volumes as of April 2016
. It is set in
a world where humanity lives in cities surrounded by enormous walls
; a
defense against the Titans, gigantic humanoids that eat humans seemingly without reason
. - know more at
Attack.On.Titan.at.Wikipedia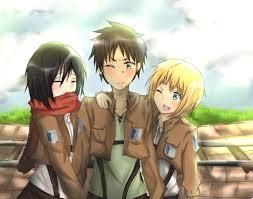 Criados pelo designer e modelista norte-americano Zenny, aka Zenturtle651692,
aqui estão
Armin, Mikasa e Eren, de Ataque dos Titãs
, com
todo os seus equipamentos especiais.
Shingeki no Kyojin
, também conhecido como
Attack on Titan ou Ataque dos Titãs
, é o título de uma
série de mangá escrita e ilustrada por Hajime Isayama.
O
mangá
foi publicado pela primeira vez em
setembro de 2009
na revista mensal
Bessatsu Shōnen Magazine
da editora
Kodansha
, desde então, os capítulos foram compilados e
lançados em 19 volumes tankōbon até 8 de abril de 2016.
O mundo foi
dominado por titãs
,
criaturas gigantescas humanoides devoradoras de humanos!
Os
poucos sobreviventes viram sua civilização reduzida a um território protegido por muralhas
. Essas
muralhas
foram capazes de
manter a ameaça afastada dos titãs por mais de cem anos.
Mas
tanto tempo de tranquilidade ruiu
, depois do
ataque de um titã mais alto do que a enorme muralha!
- saiba mais em
Ataque.dos.Titãs.na.Wikipedia
Link:
Attack.On.Titan.Armin.Mikasa.And.Eren.Paper.Toys.With.3D.Gear.by.Zenturtle651692
More Anime and Mangá Paper Models related posts:
Ichinose Kotomi Paper Doll Anime Style - by Ani Papercraft
Snow Miku Paper Doll Anime Style - by Moekami
Kyoko Chan II Paper Doll Anime Style - by Ameblo - Boneca Estilo Anime
Chibi Vocaloid Paper Dolls - by Desubunny