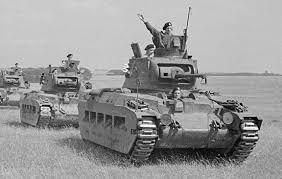 The Real Thing in Action
Created by Czech team from Britrex website
, this is the
British lnfantry Tank Mk.II Matilda,
here in a
very well done paper model version
in
1/87 scale (HO scale).
The Infantry Tank Mark II
, best known as the
Matilda
, was a
British infantry tank of the Second World War.
The design began as the
A12 specification in 1936,
as a
gun-armed counterpart
to the
first British infantry tank
, the
machine gun armed, two-man A11 Infantry Tank Mark I
. The
Mark I
was also known as
Matilda,
and the
larger A12 was initially known as the Matilda II,
Matilda senior
or
Waltzing Matilda
. The
Mark I was abandoned in 1940
, and from then on
the A12 was almost always known simply as "the Matilda".
With its
heavy armour
, the
Matilda II
was an
excellent infantry support tank
but with somewhat
limited speed and armament.
It was the
only British tank to serve from the start of the war to its end,
although it is
particularly associated with the North Africa Campaign.
It was
replaced in front-line service by the lighter and less costly Infantry Tank Mk III
Valentine
beginning in
late 1941.
A Captured Matilda
Criado pela equipe do site tcheco Britrex
, este é
Tanque Britânico de Infantaria Mk. II Matilda
, aqui em uma
muito bem feita versão em papel
, na
escala 1/87 (escala HO).Matilda II foi um tanque de infantaria britânico da Segunda Guerra Mundial
. Serviu
durante toda a guerra
e tornou-se
particularmente associado com a Campanha Norte-Africana
. Foi
substituído no serviço pelo tanque de infantaria Valentine.
Com a sua
pesada armadura
o
Matilda II era um excelente tanque apoio de infantaria,
mas com
velocidade e armamento um pouco limitado.
Por volta de setenta Matilda ainda existem
em v
ários graus de preservação
. A maioria
(por volta de 30)
está na
Austrália
, em
museus
, exibidos em
monumentos públicos
ou sob
posse privada
. Uma notável coleção fica no
Royal Australian Armoured Corps Memorial
and
Army Tank Museum,
em
Puckapunyal, Austrália
, a qual conta com
cinco Matilda II em exibição.
Link:
A12.lnfantry.Tank.Mk.II.Matilda.Paper.Model.In.1/87.Scale.by.Britrex
More WW2`s Military Vehicles related posts:
Jeep SAS - Desert Rats - Paper Model - by Toni Mauricio & Dark Vador
WW2`s Soviet Heavy Tank IS-2 Paper Model - by X-Diem
WW2`s Tank M3A Honey Paper Model In 1/48 Scale - by Konradus
Scammell 6X6 Gun Tractor Paper Model In 1/72 Scale - by Dark Vador via Le Forum En Papier