This is the paper model of Metzger Tower, or Leaning Tower of Ulm,
inspired in a
famous architetural building situated in Wangen, Germany
. The
Metzger Tower
, on the
banks of the Danube in Ulm
, has an
inclination of 3.3 ° and height of 36m
. Perfect for
Dioramas, RPG and Wargames
, this model, in
1/160 scale (N scale)
, is offered by
Ausschneide Bogen
website.
Este é o modelo de papel da Torre de Metzer, ou Torre Inclinada de Ulm
, e este modelo é
inspirado em uma famosa construção real
situada em
Wagen
, na
Alemanha
. A
Torre de Metzer, nas margens do Rio Danúbio, em Ulm,
tem uma
inclinação de 3,3 ° e uma altura de 36m.
Perfeito para
Dioramas, RPG e Wargames,
este modelo é oferecido pelo site
Ausschneide Bogen
e está na
escala 1/160 (escala N).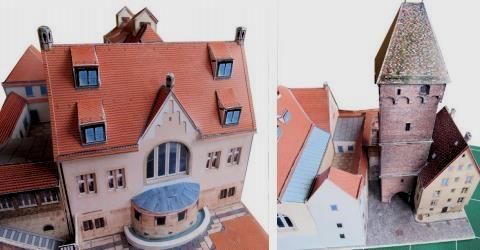 Link:
The.Leaning.Tower.Of.Ulm.Paper.Model.by.Ausschneide.Bogen
More German Architectural Paper Models related posts:
Half-Timbered House In Wangen Paper Model - by Ausschneide Bogen
German Lindauer Tower In Wangen Paper Model - by Ausschneide Bogen
Tower Of Isnyer In Wangen Paper Model - by Ausschneide Bogen
The Ravensburger Gate Paper Model - by Ausschneide Bogen